Accommodation
Make yourself at home
Teesside is a safe and friendly place where you will soon feel at home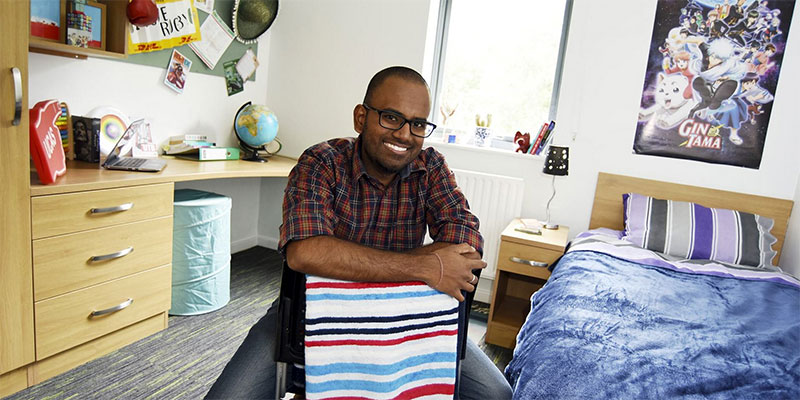 We guarantee to help international students who apply before 1 September of the year they start with affordable student housing within easy reach of the University.
We offer some of best-value University-managed accommodation in the UK, located on campus or very close by. Be part of the University community and have the opportunity to participate in lots of extra activities organised by your hall such as sports and social events. It's a great way to quickly develop a network of friends and get involved in university life.
Types of accommodation
1,100 places on campus in University-managed halls, houses or flats
Accommodation facts
In University-managed residences you have facilities to do your own cooking and laundry
You can rent for a 40-week, 45-week or a 50-week period
Heating, lighting, student bedroom insurance and free internet access is included in the cost
The residences are mixed, open to both men and women. However, there are separate sections for rooms for men and for women
We welcome applications from students with special needs although specialist accommodation is limited. If you have particular requirements, please let us know as soon as you receive a place on a course
Kitchen equipment and bedding are not provided. You can buy a kitchen pack and bedding pack from our online shop. They must be requested and paid for before you arrive. Details are sent with your accommodation offer
Safety
Our campus is a much safer environment than those in larger cities. For your assurance, uniformed security officers patrol the campus and monitor closed-circuit television all day, every day. You can also visit our security control room near to the library main entrance.
Accommodation for families
Suitable accommodation for couples is limited. Contact the accommodation team for advice and information. If you intend to bring dependents, you are strongly advised to make accommodation arrangements before travelling to the University. Please note: we do not have accommodation for children.
Private accommodation
You can find an abundance of property in Middlesbrough's private sector - in traditional houses or in purpose-built halls of residence Our accommodation team can help you identify landlords to contact but it doesn't arrange this accommodation for you - your contract is directly with the landlord, not with the University.
Temporary accommodation
If you want to look for a place to live after you arrive, or if you make a late application, you may need to book temporary accommodation for your first few nights. This will cost a minimum of £30 per night.
Costs
We have some of the most affordable University-managed accommodation in the UK
Rents for 2018-19 vary from £65 a week (£2,600 a year) to £115 a week (£4,600 a year) for a single room for a 40-week period
£58 a week (£2,320 a year) for a shared room in halls of residence for a 40-week period
Where to live while you study here
Living close to the University will greatly benefit your studies and your student experience. We recommend that you choose to live in Middlesbrough, or as nearby as possible. Some cities in the North East of England, like Leeds and Newcastle, are up to two hours travelling time away from the University campus. We do not recommend you live as far away as that during your studies at Teesside University.
Visit our accommodation section for further details on our accommodation options
---