Free meet and greet collection service
Teesside University runs an airport meet and greet service for our international students. We collect new international students from Newcastle International Airport and transport them to Campus Heart.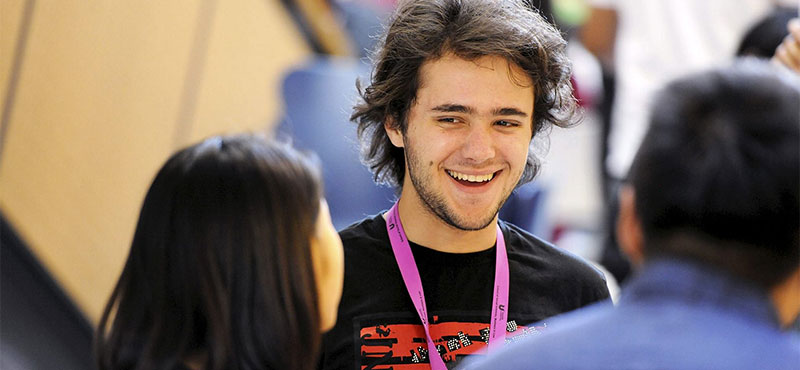 January Collections will be running from Wednesday 10 - Friday 12 January 2024 and Monday 15 - Sunday 21 January 2024 and will offer collections from Newcastle International Airport. For students arriving later in the evening, the University recommends booking accommodation at the airport and transferring to Teesside the following day. Students who book accommodation at the airport are still eligible for a transfer during the noted transfer window.
If you arrive before or after the advertised Meet and Greet window you will need to make your own way to the University. For arrivals in all circumstances students are required to book their collection five working days prior to arrival.
Collections: Newcastle Airport
Collections for the Meet and Greet service are in the international arrivals hall. Anyone arriving on an internal flight (for example from Heathrow or Birmingham) will need to make their way over to international arrivals from domestic arrivals to meet our Arrivals Team. Once in the transfer, the journey time to Teesside is approximately one hour.
Bookings will open in November so please check back then. Please book early to ensure your place on the service
If you are arriving outside of normal business hours (9.00am-5.00pm in the UK), the university recommends booking airport accommodation and arranging your collection and transfer to Teesside on the following day. This could either be with a Meet and Greet collection where available, or using the guidance on our Travelling to Teesside page.
If you arrive outside of the advertised Meet and Greet window, you will need to make your own arrangements to travel to the University. Please see our section on making your own way to Middlesbrough.
Please contact your Regional Manager or email us at meetandgreet@tees.ac.uk with any queries.
Meet and Greet FAQs
Please see the Meet and Greet Offer section for details of the Meet and Greet window.
Our team will collect you from Newcastle Airport and transfer you to Teesside. Collections are on an on demand basis every day during the meet and greet window, but please note that if you arrive on a late flight, then it is recommended that you book into an airport hotel and transfer to Teesside the following day.
There are a number of hotels available at Newcastle airport where you would be able to book a room, and it is also possible to take the Metro into Newcastle city and arrange accommodation at a hotel or hostel in the city centre.
You will not be able to stay overnight in the airport itself, so if you arrive late, please be sure to book accommodation for your arrival.
No. The university collects students arriving to Newcastle airport. You are able to book a short haul flight from Heathrow to Newcastle airport and if you arrive during our collection window (see Meet and Greet offer above) then you would be able to book transport with our Meet and Greet team. Alternatively, you can book your own transit from Heathrow using public transport. There are excellent rail and bus links from London to Middlesbrough.
No. The university is only able to collect students during the advertised Meet and Greet period. You will need to make your own arrangements to travel to Middlesbrough.
You can find out more about travelling to Middlesbrough independently on our Travelling to Teesside page.
Please be aware of any time differences and that telephone calls or emails outside of UK business hours will only be responded to the next working day (UK time).
If you have any enquiries about our meet and greet service, please contact meetandgreet@tees.ac.uk. It can take up to five working days for a response due to high demand.