Success for first cohort of Vice-Chancellor's scholars
Outstanding international students who received a prestigious scholarship have been congratulated as they complete their studies.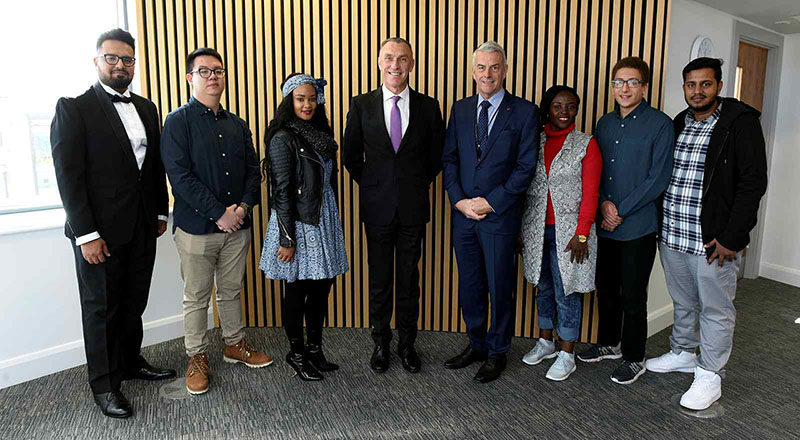 Teesside University launched its inaugural Vice-Chancellor's Scholarship Award in 2018 for international students who could demonstrate their commitment to becoming future global leaders
Successful students were selected based upon academic ability, extra-curricular activity and personal attributes.
From the Vice-Chancellor's Scholars group, eight of those students have now completed their studies this year, receiving excellent results.
As the University's very first graduating cohort of students to receive this prestigious award, we celebrate their success at Teesside University and wish them the very best of luck in their future endeavours.
Among them is Nicholas Patrick, from Indonesia, who graduated with a First Class degree in Concept Art and has recently started MA Concept Art. He said: 'Being granted the scholarship brings me honour, I might be the first Indonesian to get it from the Vice Chancellor in this university.
'It also alleviates a little bit of the financial weight that typically comes with formal, higher education. It makes a difference for me, an international student, who usually has to spend more in terms of student fees.'
A total of 38 students continue with their study programmes and we look forward to celebrating their graduation in future.
At Teesside we firmly believe in fair access to education and the introduction of the Vice-Chancellor Scholarship programme has allowed us to reach out to the global community and support students who may not have been able to come to the UK to study otherwise.
This is the most recent addition to our portfolio of support for international students through bursaries and scholarships, alongside the Commonwealth and Chevening Scholarship programmes, and the GREAT Scholarship schemes offering opportunities to students in disadvantaged areas across the world.
The prestige of the Teesside University Vice-Chancellor's Scholarships is renowned in our overseas markets and their popularity has increased significantly, now welcoming hundreds of applications each semester. In 2019, we were able to enhance the programme by increasing the number of places available, a significant step towards enriching the student experience for all through diversity of our student body. This is an area valued by our UK and international students, with our most recent international student poll (The International Student Barometer 2019*) placing us as number one in the UK for overall average satisfaction with the student experience.
I know that their experience here has prepared them for what lies ahead and that they will continue to be invaluable ambassadors for the University.

Teesside University Vice-Chancellor and Chief Executive, Professor Paul Croney, said: 'I am incredibly proud of the team spirit and resilience all our graduates have shown during these challenging times. The prestigious Vice-Chancellor's Scholarships are awarded only to individuals who show great promise of becoming the global leaders of tomorrow and this first cohort of graduates have set the bar exceptionally high.
'I know that their experience here has prepared them for what lies ahead and that they will continue to be invaluable ambassadors for the University.'
Dr David Bell, Pro Vice-Chancellor (International), also praised the hard work and dedication of the students involved. He said: 'The determination and commitment demonstrated by our Vice-Chancellor Scholars is exemplary and I am delighted they have had the opportunity to study here at Teesside University. Their academic achievements are excellent, and their overall student experience will prepare them well for the future.
'At Teesside, we believe education is a lifelong journey and we look forward to welcoming our new graduates to our alumni family, which spans the globe.'
*Based on the views of 854 Teesside students within a global survey response of 179,950 students. More info here. Verification data on request, email info@i-graduate.org.
---