Delegation strengthens education links in Singapore
A Teesside University delegation visited Singapore to celebrate and strengthen an international educational partnership.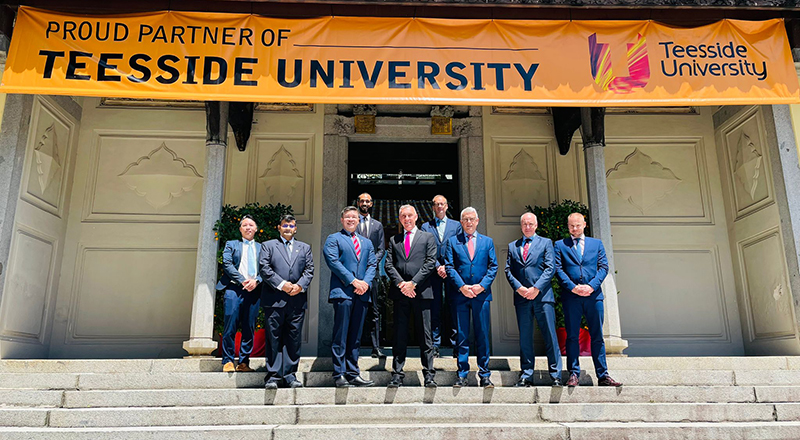 Professor Paul Croney OBE, Vice-Chancellor and Chief Executive of Teesside University, was joined on the visit to Amity Global Institute (AGI) in Singapore by Professor Mark Simpson, Pro Vice-Chancellor (Learning and Teaching); Dr David Bell, Pro Vice-Chancellor (International); Warren Harrison, Dean, TUIBS Management; and George Hunt, Director, Department of International Development.
Teesside University and AGI forged a partnership in 2020 to offer a range of undergraduate and postgraduate programmes in business and computing at AGI Singapore.
Dr David Bell said: "This trip not only celebrated the international collaboration and partnership which we have with AGI, but it will also help to strengthen our strategic partnership while highlighting our shared vision of delivering a quality education and nurturing talent."
During the visit, the Teesside University delegation met with AGI students and academics. The first cohorts are due to graduate in Singapore from TU programmes later this summer.
Teesside is an international university with a global network of partnerships, working with universities across Europe and beyond, including institutions in China, India and Malaysia. The partnership with AGI is one of three successful partnerships in Singapore.
Professor Leon Choong, Regional CEO (ASEAN), AGI Singapore, said: "Our strategic collaboration with Teesside University brings students the best in contemporaneous education and makes them globally competitive professionals.
"Amity's vision is to be an educational institution of excellence that advances knowledge and fosters life-long learning. "This is a fascinating and innovative collaboration that offers unique bachelor's and master's degree programmes across the disciplines of business management, accounting, finance, tourism, data science and artificial intelligence to students in the vibrant heart of Singapore."
---