Students use their skills for charity event
A group of enterprising students from Teesside University helped to organise a unique charity night which raised hundreds of pounds for charity.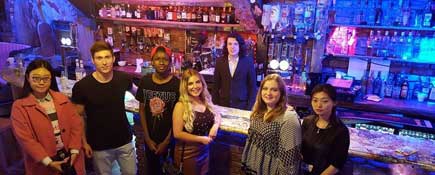 The team of six final year students, who are all studying media or journalism degrees, staged a night of live music at Mink Bar, in Corporation Road.
Named Band up to Cancer, the event raised almost £250 for Cancer Research UK and featured live music from bands, acoustic performers and DJ's.
The students were tasked with the project as part of their course and were set the challenge of running their own PR campaign.
As well as organising the event, they had to publicise it and they used press releases and social media to raise awareness and generate interest.
Bethany Dean, one of the students involved, said: 'We're really happy that Mink Bar let us organise this event. A great deal of work went into putting it together and making sure people turned up on the night.
'Everybody seemed to think it was a success and we are really happy to be able to raise so much money for charity.'
As well as Bethany, the other students involved were Eleanor Welsh, Brian Chege, Cheng Gu, Karl Redshaw and Hanyolanda Di.
Tom Grief, manager at Mink Bar, said: 'I always like to give local music acts a chance and this was a good opportunity to do just that, so I just couldn't say no.'
---