Innovative start-up preserving precious memories of life in 3D
An innovative new business is using advanced 3D technology to help people preserve precious memories in the form of highly detailed models.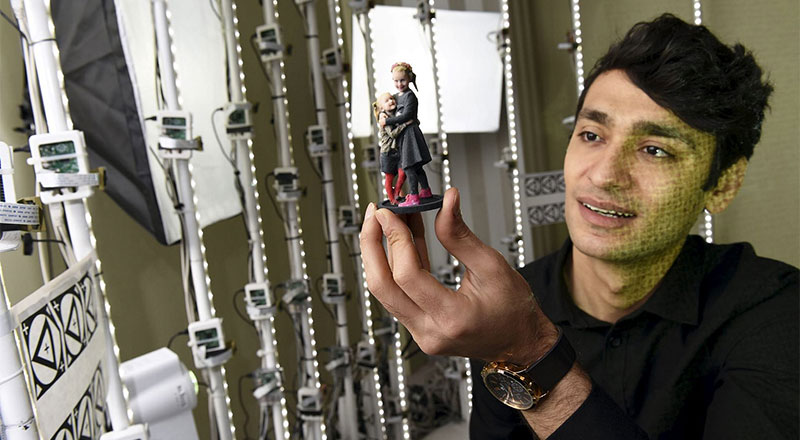 Moments in 3D has specially created a scanning booth to 3D scan family members, loved ones, or even a favourite pet, which is then transformed into a miniature model using the latest 3D printer technology.
The company, which is based at Teesside University, Middlesbrough, currently has an exclusive concession at the flagship Fenwick department store in Newcastle upon Tyne to offer the service as an ideal gift for Christmas shoppers.
The company's founder Behzad Parniani has a background in Aerospace and Technology and used his technical expertise to innovate and construct the scanning booth and the business model in Teesside University's business incubator at Victoria Road.
The 3D scanning booth uses more than 100 digital cameras connected to computers triggered simultaneously to capture every angle of the model's body as easily as taking a normal photo.
The image is then rendered using powerful 3D software before being printed, layer upon layer, by the latest colour 3D printer.
The figurine is printed in full colour in a sandstone effect high performance composite which captures every detail of the model from facial expressions to the creases in their clothing.
The new service is proving incredibly popular and Behzad is now exploring ways to expand services and business by offering the service at different outlets nationwide.
He said: 'By using the latest 3D technology and the best 3D artists, we're able to construct figurines that are extremely lifelike and incredibly detailed. "The technology offers endless possibilities and is already proving incredibly popular.'
Behzad was given assistance by Teesside University to help him get his business off the ground. This included help and support from the University's graduate enterprise team and access to facilities and equipment.
He added: 'The University has been a fantastic source of help and advice. "The support I received from the University enabled me to take the business to the next level.'
Laura Woods, Director of The Forge, Teesside University's business hub, said: 'At Teesside University we are constantly looking at ways in which businesses can make the most of opportunities arising from new technologies such as 3D printing.
'Moments in 3D has applied technology and ingenuity to produce a very successful business model and we are delighted to have been able to support Behzad.'
---
For more information about how Teesside University can help your business click here.