University provides inspiration for music moguls' new record label
A group of enterprising Teesside University music enthusiasts have formed their own record label in a bid to revitalise the local music scene.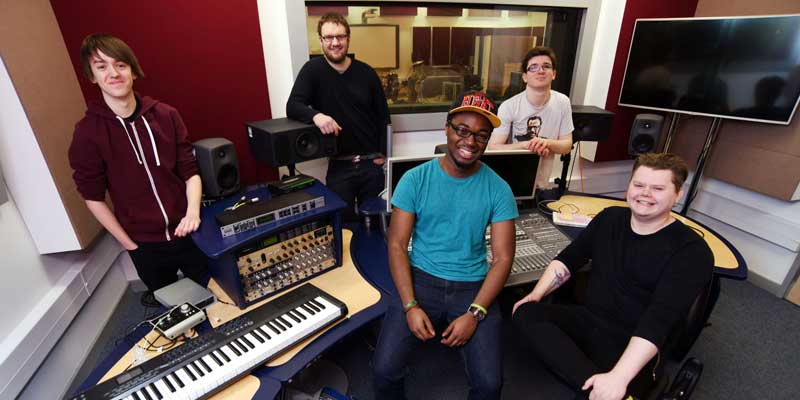 Coastline Records was set up by five students currently on the BSc (Hons) Music Technology course.
They have been working around the clock to make the label a success and have already signed three bands, released a string of singles and recorded an entire album over one weekend.
The quintet hope the record label will provide a springboard for local musicians and breathe new life into what they describe as an under-represented local music scene.
Coastline Records is completely self-funded and consists of Andy Surtees, 32, James Knott, James Ryan and Jamie Wilson, all 18, and Takudzwa Chanakira, 19.
The five friends are in different stages of their degree course but were brought together by a shared love and passion of music. They first came up with the idea of forming their own record label after being inspired by a first year module and are in the favourable position of being able to use the recording studio and rehearsal space at Teesside University.
Andy said: 'It has been a great experience so far – doing something for yourself and seeing how far you can take it. We have all worked incredibly hard and put a great deal of time and effort into Coastline Records.
'We would love it to be the next Sony, but, realistically, we want to use the label to showcase what people can do and provide a platform for local musicians.'
Takudzwa added: 'There is so much musical diversity in Middlesbrough – you can go from indie to grime just by crossing the road. Unfortunately it seems to be under-represented and we want to help establish a forward-thinking, vibrant music scene.'
So far Coastline Records has signed three bands, Auto Imune and Apex, both from Darlington and Slurs, from Newcastle. All three bands have recorded and released singles and Auto Immune worked through an entire album of songs with Coastline Records. The record label have also been actively promoting the bands and securing a string of gigs across the region.
'You can learn about how to produce and mix different styles of music,' explained Andy.
'But working with real bands who have their own creative ideas adds a whole new dimension – it can be challenging, but it is great fun.'
It is an exciting time to be involved with a record label, with the sale of physical products making way to streaming and downloading. Andy says the digital age is both a blessing and a curse.
'It's much easier to get your music out there. But it is not just us, it's obviously much easier for everybody, which means there is a lot more competition locally, nationally and globally.'
Coastline Records are having an official launch night to celebrate the early success of the label and launch Slurs' first single Murder She Wrote, Auto Immune's second single You Lie, and Apex's first EP, Smooth Talk. It takes place on Saturday 9 April, in Teesside University's Students' Union and will feature live music from local acts Crystals and Saytr Play supporting the three bands from the record label.
Andy is also looking for more Teesside University students to get on board and help out at Coastline Records. He is particularly interested in people with skills in marketing, PR, graphic design and business.
---
Find out more about Coastline Records or get tickets for the launch night