Triple award for The Curve
The Curve, Teesside University's iconic new £20m teaching and learning building, has scooped three prestigious architecture awards.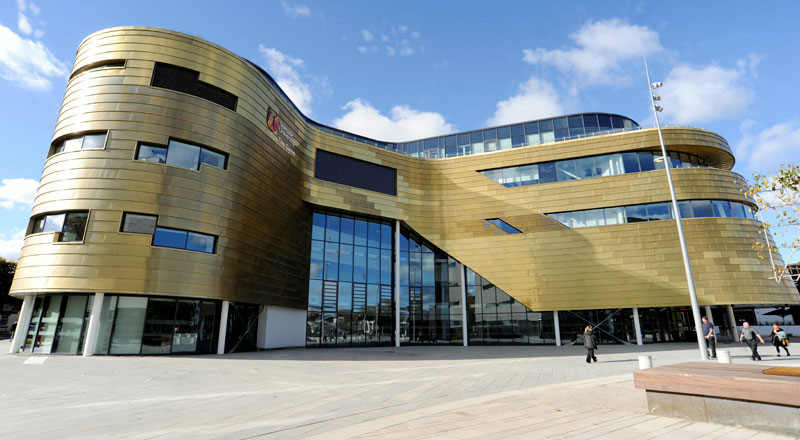 It received the Project of the Year title at the 2016 Royal Institution of Chartered Surveyors (RICS) North East Awards. The building also landed the Design Through Innovation and Regeneration awards.
The Teesside University project will now go through to the national finals in London in October.
The Curve is a state-of-the-art, environmentally friendly building, with high quality architectural design and striking gold-coloured panels. It provides 1,476 square metres of innovative teaching and learning space.
It forms the centrepiece of the £30m Campus Heart development, which also includes a living wall, with giant LED screen, a brand new £2.75m health and fitness centre, The Gym, and a £6m upgrade of science and engineering facilities in both the Orion and Stephenson buildings.
The Curve was one of over 60 developments put before hundreds of property professionals at the RICS North East Awards held at Newcastle Civic Centre.
Chairman of the judging panel for the RICS North East Awards, Adam Serfontein said: 'The Curve is a winner in so many ways.
'Not only is it innovative and exemplary in design, it has been hugely well received by students and the local community. I have no doubt that it will act as a catalyst for future development.'
Teesside University has invested £260m in its campus in recent years as part of its ongoing commitment to provide the best possible student experience. It recently announced a £6m refurbishment of its library to be carried out over the next three summers to further upgrade and enhance the facilities.
Vice-Chancellor and Chief Executive Professor Paul Croney said: 'The Curve and Campus Heart signal the start of an exciting new era at Teesside University and they reflect our commitment to providing an outstanding learning experience for our students.
'The Curve has been exceptionally well-received by students, staff, stakeholders and the wider community - we are delighted to see it recognised with three prestigious awards.'
Chief Operating Officer at Teesside University Malcolm Page added: 'Campus Heart was the biggest programme of investment the University has undertaken and The Curve is the jewel in its crown and it's fantastic it has been recognised as the best project in the North East.
'To continue to grow as a university and to provide a first class student experience, we have to keep investing. To receive recognition of this nature is fantastic and reinforces that the ambitious decisions we are taking are the correct ones for our students and everybody involved with Teesside University.'
---
See a full list of winners on the RICS website
In the News
Rewards for top estates at the AUDE Awards
University Business, 01/05/2016; Pro Landscaper Magazine, 25/4/2016
The Campus Heart Project won Highly Commended award at the 2016 Higher Education Estates and Facilities Awards.
---
Creating a landscape the region can truly be proud of
Newcastle Journal, 16/04/2016; Evening Chronicle, 16/04/2016; Gazette Live, 17/04/2016; Evening Gazette, 18/04/2016; BBC Radio Tees, 18/04/2016
Teesside University's The Curve has taken the Project of The Year title at the 2016 Institution of Chartered Surveyors North East Awards