Partnership providing fresh learning opportunities
Teesside University's new partnership with Barclaycard is paying dividends with both organisations benefiting from new and innovative learning experiences.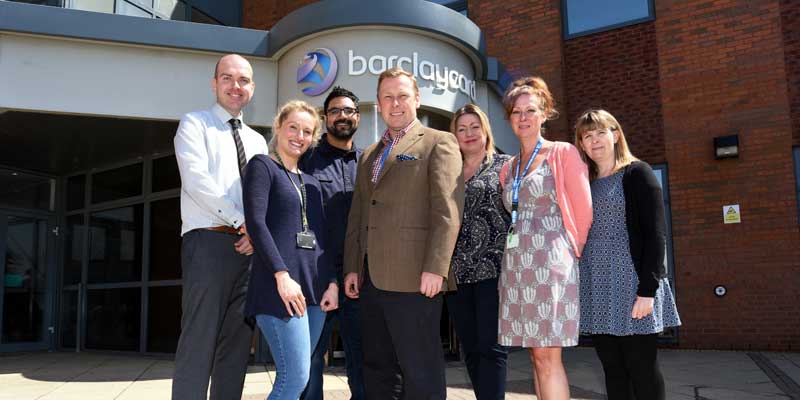 Academic staff from the University have been visiting the Barclaycard Contact Centre in Stockton to deliver various sessions to a diverse range of staff, with topics covering everything from forensics and health, to anthropology and creative thinking.
The idea is to get Barclaycard staff enthused about part-time or postgraduate study opportunities available at Teesside, while also enabling academic staff to engage with different audiences away from the University.
Staff at Teesside were initially invited to take part in Barclaycard's Learning Exhibition and this led to the delivery of three presentations at its annual Learning at Work Week.
The presentations were so successful that Teesside were invited to visit and Barclaycard developed an on-going programme of activities to give more colleagues the opportunity to get involved.
Paul Britton, Postgraduate Recruitment Co-ordinator at Teesside University, said: 'It is important to provide study opportunities to as many different people as possible.
'The sessions we are holding at Barclaycard have been extremely successful, with positive feedback from those taking part.'
Karen Williams, Recruitment Co-ordinator, added: 'Many of the staff at the sessions may not think that higher education is an option any more because they work. But, by holding these activities at their work place, it starts to get them thinking about part-time or postgraduate courses and the kinds of opportunities that are available to them.
'We have found that engaging with large organisations such as Barclaycard is extremely beneficial for everybody concerned.'
Debbie Hayward works at Barclaycard and attended a Crime Scene Investigation talk delivered by Professor Tim Thompson.
She said: 'The session was without a doubt one of the best I have been to. It was extremely informative and well-delivered and I will definitely be attending more in the future.'
Antony Smelt, who also attended the talk, added: 'Amazing, informative, thought provoking, fascinating, and all round brilliant – this is exactly what learning should be about.'
Maria Cartmell, a Senior Learning Advisor at Barclaycard, said: 'We spotted an opportunity to work in partnership with Teesside University and support our colleagues' hunger for learning.
'The hugely popular programme has given them the opportunity to meet and hear from professionals in a diverse range of fields – including forensic science and the creative industries – in lively sessions delivered with passion, humour and enthusiasm. It has taken our colleagues' learning initiatives to new heights.'
Harinder Singh, also a Senior Learning Advisor, added: 'Colleagues are excited about future sessions and it's helped inspire them, taking ownership of their personal development.
'We have created a buzz which we would like to continue for the rest of 2016.'
Martin Pout, Assistant Dean in the University's School of Arts & Media, recently delivered a session for Barclaycard's learning and development team on creative thinking.
He said: 'Teesside University is committed to widening participation and we are passionate about taking part in a wide range of activities to get people enthused about learning and the possibility of higher education.
'The sessions being delivered at Barclaycard are a perfect example of the University and business working together to meet the needs of the workforce.'
If you feel your business could benefit from a similar initiative and input from Teesside University, please contact enquiries@tees.ac.uk
---