Teesside University winter graduation celebrations
A special programme of graduation celebrations is to be held at Wynyard Hall for over one thousand Teesside University graduates.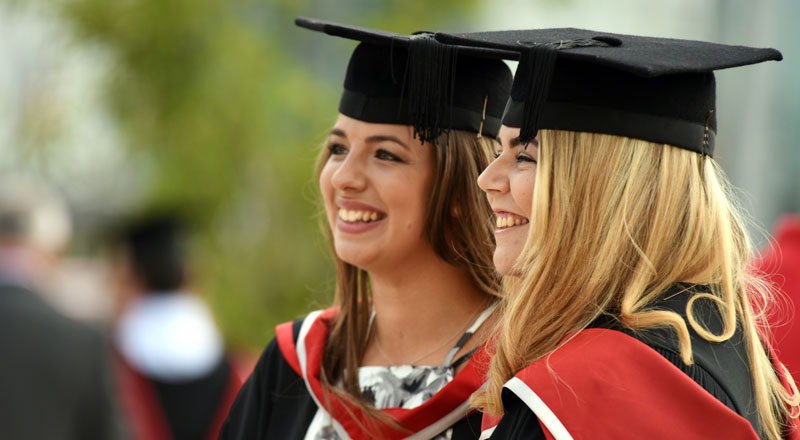 Six ceremonies will be held over three days from Wednesday 23 to Friday 25 November in The Grand Marquee and Gardens at Wynyard Hall Hotel.
In total, more than 1,200 graduates will mark the completion of their academic studies at the University, which earlier this year was ranked in the UK top 25 for teaching excellence in the Good University Guide 2016-17.
University staff and guests will acknowledge the academic success of students from across the University's five academic schools of Health & Social Care, Social Sciences, Business & Law, Design, Culture & the Arts, Science & Engineering, and Computing, with a range Higher Education qualifications awarded from undergraduate awards through to research doctorates (PhDs).
The graduation programme will also include students who have completed Teesside University Higher Education awards at the University's further education college partners in the North of England.
Graduation is the high point in our University's academic year
Teesside University Vice-Chancellor and Chief Executive, Professor Paul Croney, said: 'Graduation is the high point in our University's academic year. It is the formal celebration of the achievement, values and qualities of the academic endeavour of our students and an opportunity for them to share their success with friends and family.'
Each of the graduation ceremonies will be streamed live on the University's website at 10:30am and 2:00pm via this link
---
In the News
Nursing a new degree: Teesside University graduations
Northern Echo, 23/11/2016; Evening Gazette, 23/11/2016; Northern Echo, 24/11/2016; Evening Gazette, 24/11/2016; Northern Echo, 25/11/2016
Teesside University's winter graduation ceremonies are mentioned.
---
Teesside University Winter Graduation Celebrations
Love Middlesbrough, 18/11/201; Northern Echo, 19/11/2016; 4Traders, 21/11/2016; North East Connected,
Professor Croney commented on the Winter Graduation Ceremonies to be held at Wynyard Hall.