Computer games art student Selina set for San Francisco
Computer games art student Selina Peart-Pearson is off to America after securing a place at a global event - come to our Open Day this weekend to find out more about opportunities to broaden your own horizons.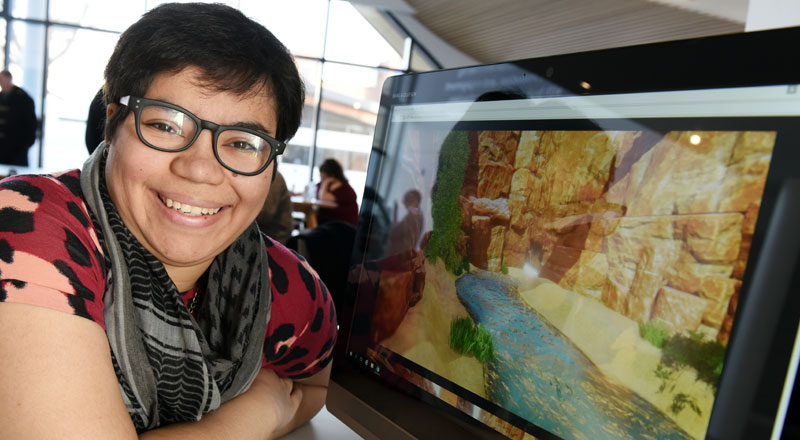 Selina is among a handful of lucky students to win an all-expenses paid trip to the world's largest professional game industry event GDC (Game Developers Conference) taking place in San Francisco in America from 27 February to 3 March.
If you are still considering which course to study at university, it's not too late as we have an Open Day on Saturday 25 February, 10.00am to 2.00pm. Book a place.
The GDC conference will bring together around 27,000 programmers, artists, game designers and other professionals involved in creating interactive games and virtual reality in order to exchange ideas and play a role in shaping the industry's future.
Selina was one of just 10 students to win the GDC scholarship for women in games, offered by GDC to enable students win an all access pass for the event, which includes speakers, exhibitions and a diverse range of workshops covering all aspects of the games industry.
'I am very excited to be going to GDC, it's a huge event,' said Selina, originally from Huddersfield and a final year Teesside University BA (Hons) Computer Art Games student.
I wanted to study at Teesside University as I was told it was the best place for computing
'It was a long shot in submitting my application, but I am so pleased I did. My specialism is technical art, which is quite a niche area, so I was really excited when I found out there will be a workshop on it at GDC.
'I'm really looking forward to meeting the nine other students who won the scholarships to find out what they are studying and how it compares to my own experiences.'
Selina, who turns 26 on the day she is due to fly to America, added: 'I wanted to study at Teesside University as I was told it was the best place for computing. The course has been great and has put me on the right path to work towards a career in the computer games industry.'
Gabrielle Kent, Senior Lecturer in Games Development in the University's School of Computing, who shared details of the scholarship with her students, said: 'Selina submitted a great application to win the trip to San Francisco.
'GDC is perhaps the biggest and most prestigious event in the global games calendar. Selina will be hearing from some of the biggest names in games development and making contacts from the world's top studios.
'She's a very passionate student and I hope this trip helps her to find her perfect job in the industry.'
---