Selina's trip of a lifetime
Selina Peart-Pearson says she has Teesside University to thank for the opportunity to embark on the trip of a lifetime.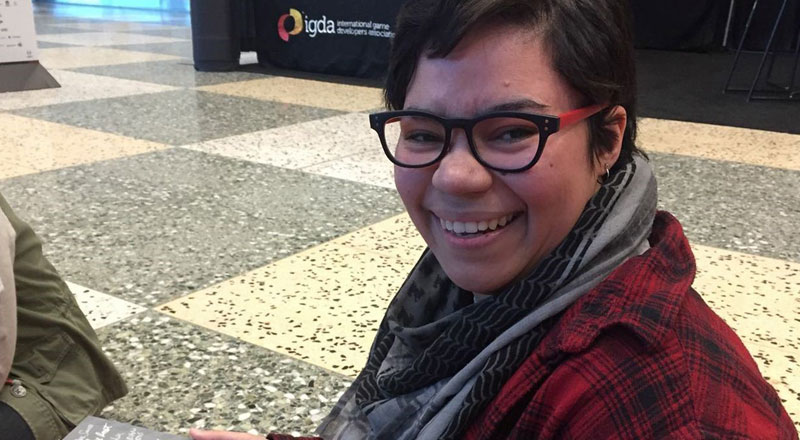 Final year BA (Hons) Computer Games Art student Selina was among a handful of lucky students to win an all-expenses paid trip to the world's largest professional game industry event GDC (Game Developers Conference) in San Francisco.
Now back at lectures at Teesside University, Selina, who flew to America on her 26th birthday, said: 'It was an amazing experience and it is such a huge event.'
Selina was one of just 10 students from across Europe to win the GDC scholarship for women in games, offering an all access event pass.
The five-day GDC conference brought together around 27,000 programmers, artists, game designers and other professionals involved in creating interactive games and virtual reality to exchange ideas and shape the industry's future.
She added: 'It was great to meet the other nine students who had also won scholarships and we had lots of opportunities to meet people from different games companies. The conference organisers arranged for industry speakers to talk to us at the hotel every morning during breakfast, which was a great start to each day.
'My specialism is technical art, which is quite a niche area and I was really excited when I was able to sign up to a workshop on it at GDC.'
Her work in technical art also led to Selina being invited to lunch while in San Francisco by Greg Foertsch, an art director with Firaxis Games.
I wanted to study at Teesside University as I was told it was the best place for computing
She said: 'I'd posted work from my final year project to my blog and Greg contacted me on Twitter, suggesting we meet up. I was overwhelmed when he presented me with a signed concept art book as a gift.
'It was great spending time with the other scholarship winners as we all had the same mindset and will be keeping in touch. Two others were concept artists, another was design and another was a programmer and we all got so much out of it.
'Experiencing the conference has boosted my confidence and broadened my horizons when it comes to where I'd like to work in the future. San Francisco is such a great place to visit too, with so much to experience.'
Selina, who is originally from Huddersfield, added: 'I wanted to study at Teesside University as I was told it was the best place for computing. The course has been great and has put me on the right path to work towards a career in the computer games industry.
'I'm not sure I would have even applied for the GDC conference scholarship without studying at Teesside University. This has given me just what I needed for my final year.'
---