Students showcase their research at national conference
Students involved in research at Teesside University have been invited to present their work at a national conference.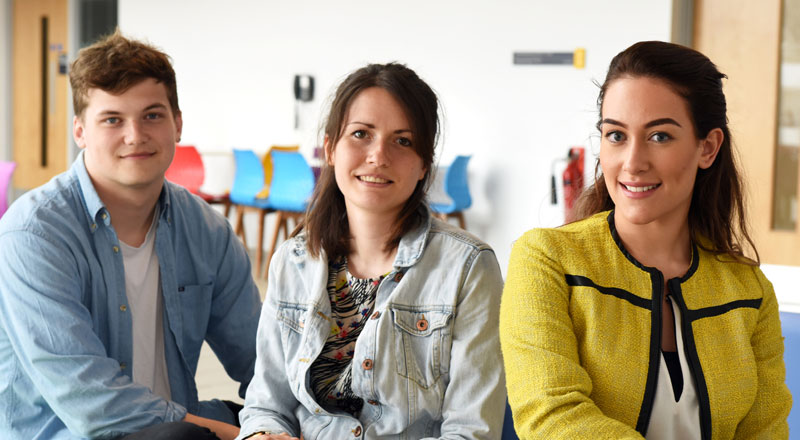 Carl Meggs, Laura Woolley and Natalie Woods, who were all involved in the University's Students as Researchers Scheme, will talk about their work at the British Conference of Undergraduate Research (BCUR).
The BCUR celebrates undergraduate research from across all disciplines as students take their first steps into the world of research. Each year a different British university hosts the conference, with this year students from across the country presenting their work at Bournemouth University on 25 and 26 April.
BEng (Hons) Aerospace Engineering student Carl will present a poster presentation to talk about the research he is involved in which centres on a new software for the composite industry. His presentation is titled 'Composite Revolution: Can digital layup techniques revolutionise the transport industry?'
Carl, 21, from Stockton, said: 'It has the possibility to revolutionise the efficiency of manufacturing and I'm really pleased to be chosen to speak about the research.
'I am interested in working in renewable energies when I graduate and studying this degree has helped me towards that path. Presenting my work at Bournemouth is a great opportunity.'
BSc (Hons) Food and Nutrition student Laura will talk about research she is involved in which aims to encourage people to grow their own food and eat more vegetables, while developing community spirit through sales of their produce.
Her presentation is titled 'Evaluating the impact on community wellbeing and participation through a grow-your-own project in areas of high deprivation in Redcar and Cleveland'.
It will be interesting to hear about the research other students from different universities are involved in.

Laura, 23, who is originally from Cambridge, said: 'It is really exciting to be presenting, it will boost my confidence and it will be interesting to hear about the research other students from different universities are involved in.
'I was originally working as a chef but wanted to change direction, so applied for the food and nutrition degree. I am hoping to eventually work in public health.'
BA (Hons) Business Management student Natalie sits on the DigitalCity Student Board. Her presentation examines how the fear of a penalty or opportunity of reward increases co-operation within a non-binding agreement.
'Binding promises can lead to financial losses for organisations and I wanted to understand why people keep or fail to keep promises,' said Natalie, 20, who is originally from Kuwait.
She added: 'I am really proud to be presenting at the conference and it is a great opportunity.'
Professor Mark Simpson, Teesside University's Pro Vice-Chancellor (Learning and Teaching), said: 'The invitation for three of our students to speak at this national conference highlights the University's success in creating a stimulating learning environment where research is integrated into inspirational teaching to deliver real-world impact.
'I am delighted for Carl, Laura and Natalie, who will be great ambassadors for Teesside University when they share the insights and knowledge they have gained while being involved in their research projects.'
---