Home ›
Staff honoured at annual awards
Staff honoured at annual awards
University staff have been rewarded for the outstanding contributions they have made, as well as their dedication, commitment and long service.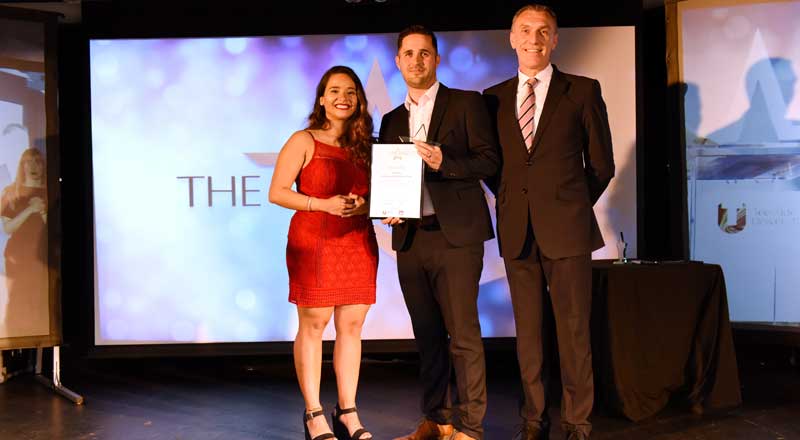 This year's event saw the University and Students' Union collaborate to celebrate the excellence demonstrated throughout the year at the Star Awards.
The awards bring together the annual presentations for long service and academic achievement, with a series of special awards that recognise the outstanding contributions made by nominated colleagues from across the University.
This year's awards ceremony was held in The Hub in the Students' Union. Staff were recognised in categories including Outstanding Teaching, Team of the Year and Unsung hero.
In addition, a number of long service awards were presented to staff who have completed either 25 or 40 years of dedicated service to the University in a special reception hosted by the Vice-Chancellor in the Curve earlier in the evening.
The full list of Star Awards winners are:
Innovation and Enterprise - Simon Richards, School of Health & Social Care
Outstanding Teaching – Dr Emeka Amalu, School of Science & Engineering
Research Performance – Professor Dorothy Newbury-Birch, School of Health & Social Care
Outstanding Student Support Service – Maneer Rassul, Student Services
Outstanding Leadership – Jayne Cornforth, School of Health & Social Care
Unsung Hero – Kelly Dunn, Legal and Governance Services
Fantastic Feedback – Dr Rob Hawkes, School of Design, Culture & the Arts
Team of the Year – Cleaning, Campus Services
Promoting Employability - Kimberley Collins, School of Social Sciences, Business & Law
Most Inspirational Member of Staff – Darren Johnson, School of Social Sciences, Business & Law
Students' Union Staff – Mark Whitehill, Students' Union.
---