Unique degree apprenticeship offers perfect opportunity for senior manager
A senior manager has taken advantage of a unique degree apprenticeship at Teesside University to further his career and strengthen his leadership skills.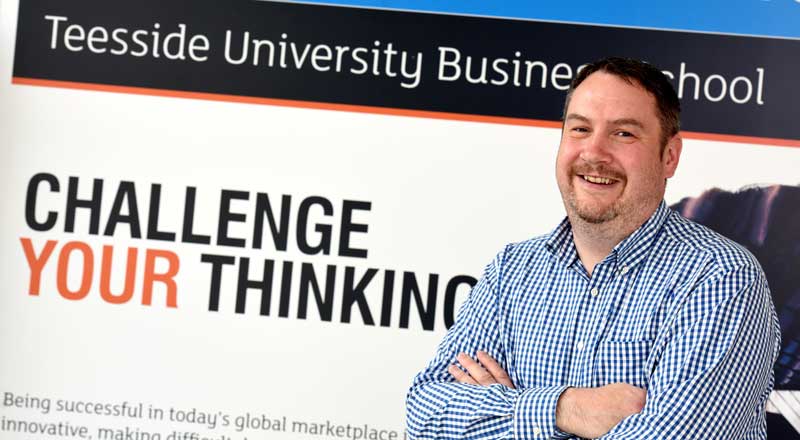 Paul Walker is nearing completion of the first year of the University's new Chartered Manager Degree Apprenticeship (CMDA).
The industry-driven degree programme is offered part time, allowing the professional cohort the opportunity to earn while they learn. Those completing the degree also receive Chartered Management Institute status.
The CMDA is one of a number of new degree apprenticeships offered by Teesside University, part-funded by Government and designed in partnership with employers to ensure graduate and industry needs are met.
Father-of-one Paul, 40, is an Area Manager for Northumbrian Water and leads a team of 18 staff. He has progressed through various leadership roles during his career, but never had an opportunity to study at degree level.
'I am passionate about self-development and as soon as I saw the CMDA course I knew it was the perfect opportunity,' explained Paul.
'It gives me the academic knowledge to back up the experience I have of management and leadership.
'My fellow cohorts are from such a diverse range of organisations – from manufacturing to the NHS. It is fantastic to share experience and knowledge with people in different sectors.'
Paul, from Yarm, is studying the CMDA part-time over three years, with one dedicated day a week blocked out to attend the University. He says the course is structured perfectly to meet the demands of his professional and personal life.
I am passionate about self-development and as soon as I saw the CMDA course I knew it was the perfect opportunity.
'I have always had a soft spot for Teesside University and as soon as I came to an open day and spoke to the lecturers, I knew it was the right place for me. I actually feel quite honoured to have been accepted by Teesside University.
'All of the lecturers have experience of working in industry and it is great to learn from them. I am already trying out different things in the work place.
'It sounds a bit corny to say it, but the CMDA really does challenge your thinking. It is making me a more inclusive leader and making me more aware that the decisions I make don't just affect me, but also have an impact on the wider company.'
Dr Gill Owens is a Senior Lecturer in Leadership and Management and is the course leader for the CMDA.
She added: 'The programme has been really well-received and we have introduced a lot of new methods of delivery.
'It is a bespoke degree that enables students to come out of it with chartered management status.
'There are some fantastically talented people on the programme and we are all learning from each other in an inclusive environment.'
---
Course details
---