Research project presented at prestigious exhibition
Academics and undergraduates from Teesside University were invited to present their research as part of a collaborative project which saw them work in partnership with students from The King's Academy in Coulby Newham.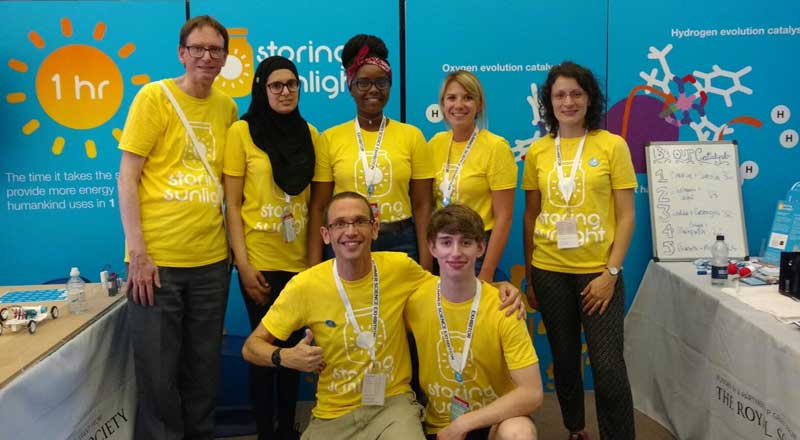 Dr Anna Reynal and Dr Joe McGinnis, along with undergraduate students from the University's School of Science, Engineering & Design, were invited to present their research project at the Royal Society Summer Science Exhibition in London.
A group of sixth form students from The King's Academy exhibited alongside the University researchers after the team was awarded a partnership grant by the Royal Society for a joint research project.
With their A-Level chemistry teacher Dr Brian Casson, the students worked on a research project led by Dr Anna Reynal to generate a clean and sustainable fuel from water and sunlight. The project, 'Storing Sunlight', was the centre piece of their stand at the exhibition.
The students discussed their research with visitors and showed demonstrations of hydrogen powered model cars to members of the public and VIPs. More than 10,000 people visited the exhibition during the week.
I was very proud to see our undergraduate students representing Teesside University and Middlesbrough at such a prestigious national science event.
Student Kirsty Roberts said: 'It was an amazing opportunity. We talked to people of all backgrounds about our project, from university academics to members of the public and other students.'
Dr Casson added: 'Presenting our project at the Summer Science Exhibition was an experience beyond all of my expectations. I was so impressed by how professionally the students worked in describing the science of producing renewable fuel from water and sunlight. They showed enthusiasm and energy that made our exhibit very popular.'
Dr Reynal said: 'I was very proud to see our undergraduate students representing Teesside University and Middlesbrough at such a prestigious national science event.'
---