Teesside graduates find success with innovative business
A fantasy games based company has secured almost £10,000 of crowdfunding for its innovative use of blueprints which allow tabletop gamers to 3D print their own characters.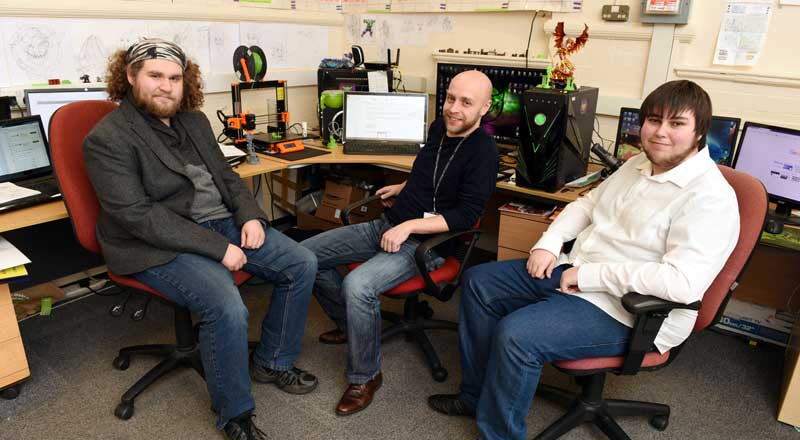 Hobgoblin 3D, which creates blueprints of characters and assets for Dungeons and Dragons style games, put its project on Kickstarter, an online community where investors can back artists, musicians, filmmakers, designers, and other creative sectors inspiring ideas.
The company, founded just 14 months ago by three BA (Hons) Computer Games Animation graduates from Teesside University, has already received pledges of almost £7,500 with that figure set to grow over the next month.
Hobgoblin 3D managing director Kevin Miree, who founded the company with his business partners Jordan Knights and Lawrence Williams, said: 'We've had a great response from the Kickstarter backers and we're seeing huge interest in home-use 3D printing for people wanting to print items for tabletop games.
'It's a good indication for what it means for the use of 3D printing technology in homes over the next few years. It's early days for our company, we've had a fantastic first year, we're seeing some really positive indicators, and we're hoping to be a business that can provide some benefit to the region as we grow.
'We've been fortunate to receive the support we've had from Teesside University, and I'd strongly recommend any graduate to consider Teesside Launchpad, and DigitalCity as a successful way to set out on the road to starting a business venture.'
The Middlesbrough based company, whose blueprints can be downloaded and printed on 3D printers in enthusiasts own homes, is also inspiring a new generation with its involvement in Foundation for Jobs projects aimed at demonstrating the importance of STEM (Science, Technology, Engineering, Maths) subjects to future careers.
Working with Foundation for Jobs the Hobgoblin 3D team challenged pupils at Darlington schools to design a fantasy character with a full backstory, which they then created a blueprint for.
We've had a fantastic first year, we're seeing some really positive indicators, and we're hoping to be a business that can provide some benefit to the region as we grow.
The winning design was produced by Wyvern School pupil Isabel Appleby, 14, who will see her character Manny turned into a fully painted figurine.
Isabel, 14, said: 'I love painting, drawing and art and it is great to know I can take that as an option and it also links into science.'
Two of her classmates were also runners up in the competition and one Chloe Bushby, 13, added: 'I think these sorts of competitions make STEM more exciting.'
Fellow pupil Cameron Cadman, 14, added: 'It shows how important STEM is and gives more awareness of how STEM is all around us.'
It has been a successful first year for Hobgoblin 3D which won a place on the Launchpad FUEL programme, which offers Teesside graduates who are in the early stages of developing a business idea up to £10,000 worth of grant funding, as well as receiving assistance from the DigitalCity Fellowship programme, which offers entrepreneurs with innovative businesses up to £5,000 to support their business expenses during the initial development stage.
The national award winning Foundation for Jobs, which aims to inspire young people's interest in the industry sectors which are set to create the most jobs in Darlington and the Tees Valley over the coming years by linking education with industry is Funded by The Careers and Enterprise Company and led by Darlington Borough Council and the Darlington Partnership of private firms and public sector organisations. It has worked with around 8,000 young people since it was launched in January 2012.
---