New student project hopes to send a rocket to space
Students from the School of Science, Engineering & Design hope to be the first student team to send a rocket to space in a project they have named Tu2Space.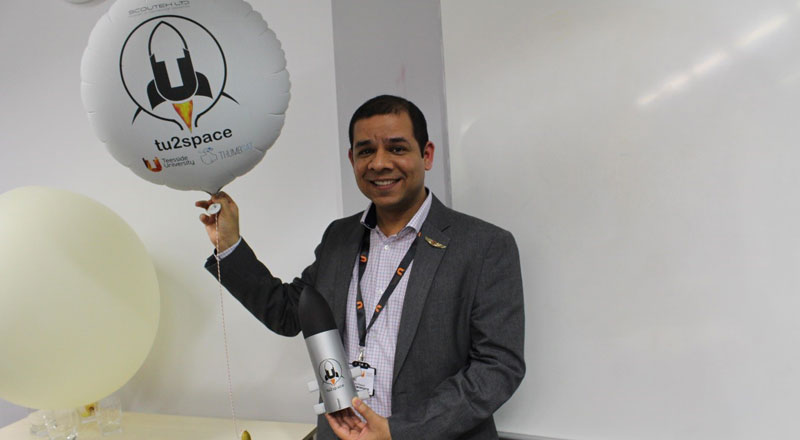 The idea was brought to students by Shaun Whitehead, a creative engineer who has been involved in multiple space missions, sending items into our orbit, to Mars and to Mercury.
Shaun hopes the students will send the ThumbSat into space later this year.
The ThumbSat is a small, lightweight device designed to act like a satellite allowing experiments to be done in a microgravity (zero gravity) environment.
Shaun got in contact with Atma Prakash, a Senior Lecturer in Aerospace Engineering at Teesside University and pitched the idea to him after finding out that the speed of tech business growth in the North East is second only to London.
The rocket the students are working on has two parts, the balloon and the rocket capsule. The balloon is the biggest part of the launch bringing the rocket 120,000ft into the air before the A4 sized rocket ignites its fuel and launches it the rest of the way.
The students have been running a series of test simulations and will be launching a series of rockets in the coming months with the aim of having one able to reach space by the summer.
---
In the News
Rocket Science
Living North, p20, 01/05/2018
Shaun Whitehead is working with Teesside University to send a rocket into space.
---
Shaun Whitehead works with Teesside University to send a rocket into space
BBC One Look North, North East, 21/03/2018
New project will see Teesside University students launch a rocket into space from the UK.
---
Entrepreneur to oversee North-East rocket launch of tiny satellites into space
Darlington & Stockton Times online, 02/03/2018
Space engineer Shaun Whitehead's company, Scoutek Ltd, is working with Teesside University to develop a low cost rocket.
---
The North businesses helping the race for space
Northern Echo, 21/02/2018
Scoutek is working with Teesside University to develop a rapid, low-cost launch rocket - a StratoBooster, which ascends on a meteorological balloon - to send ThumbSats into space from the region.