Real-world skills developed as part of Business Management degree
Students at Teesside University Business School have been given the opportunity to showcase real-world enterprise skills as part of their degree.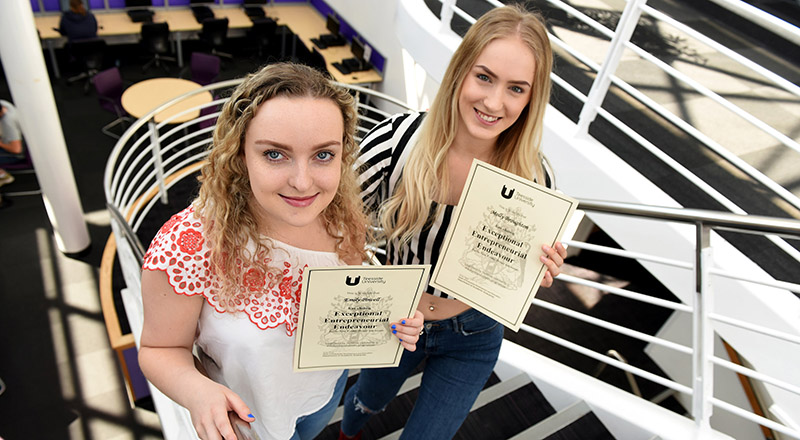 The practical approach to the E-Business Engagement module, taken as part of the BA (Hons) Business Management, has equipped students with vital workplace skills and helped some of them secure prestigious work placements.
The students were asked to design their own website, based on their interests and drawing inspiration from established websites with similar remits, with the overall aim to improve the customer experience.
Students who demonstrated exceptional quality of work on the module also received Exceptional Entrepreneurial Endeavour Certificates after being assessed by Glyn Davis, E-Business Management module leader and Principal Lecturer in the Business School.
The optional E-Business Engagement module is designed to develop practical skills that are applicable to real life situations.
Molly Broughton, second year Business Management BA (Hons) student, chose to redesign the Disney store website. Emily Powell, also a second year Business Management student, chose to design a ticket website focused around music gigs and events.
We want to get our students thinking about what the customers want and how best to present it.
Emily said: 'It was good to get to do something new and practical and to think about the different ways the customer experience can be improved.'
Since completing the module Emily has won a year-long placement at Lionweld Kennedy Flooring and said that she used the module as a practical example of the skills she can bring to the role in her interview.
The E-Business Engagement module has now run for 12 years and certificates have been awarded for the last six.
Glyn Davis said: 'We know that there's a massive requirement for graduates with these e-business skills.
'We want to get our students thinking about what the customers want and how best to present it.
'It's fantastic that these skills are already proving themselves to be useful to our students as they search for placements.'
---