University awarded prestigious grant to investigate the AI race
Teesside University has secured a prestigious grant from the Future of Life Institute to study the current bidding war for artificial intelligence (AI) excellence.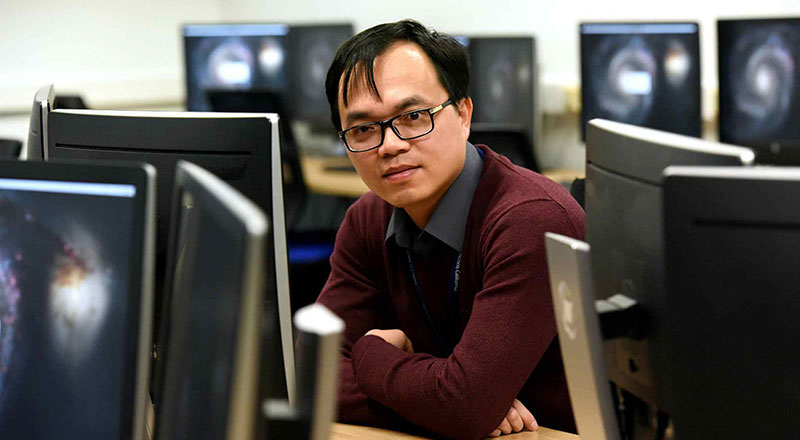 The University was one of only ten around the world to receive funding from The Future of Life Institute, with other recipients including Oxford, Cambridge, Stanford, Massachusetts Institute of Technology, University of Texas and the Australian National University. Teesside received one of the largest grants this year.
The Institute, based in the United States of America, is a volunteer-run research and outreach organisation that works to mitigate existential risks facing humanity. Its current focus is on ensuring that the development of AI technologies is for the public good, and in driving global policy around the development of AI.
Leading the project at Teesside University is Dr The Anh Han, Senior Lecturer in Computer Science, who warns that the escalating war to be pioneers in AI could compromise safety as companies strive to get ahead of their competitors.
Alongside international researchers Professor Luis Moniz Pereira, New University of Lisbon, and Professor Tom Lenaerts, Université Libre de Bruxelles and Vrije Universiteit Brussel, Dr Han will investigate the issue further.
Dr Han said: 'We are delighted to have been awarded this grant by the Future of Life Institute to progress our research. Our ambition is to understand the dynamics of safety compliant behaviours within the ongoing AI research and development race.
'We hope to provide advice on how to timely regulate the present wave of developments and provide recommendations to policy makers and involved participants around prevention of undesirable race escalation.'
Dr Han says that the biggest players in AI at the moment include the United States of America and China, but countries and companies from all over the world are trying to participate in the technology race.
If AI is not developed in a safe way, it could have catastrophic consequences.
'Several European countries are catching up and the UK in particular is heavily investing in AI technology. Lots of money and effort is being put into becoming the first to develop powerful AI,' said Dr Han.
'Through our research, we want to understand what sort of behaviours emerge and how we can use different, efficient incentives to drive the race in a more beneficial direction.'
The project will explore how mathematical 'game theories' can be used to predict how different incentives and constraints can influence the development of AI technologies. It will also investigate how these technologies are likely to be developed as forces for good or ill in different environments.
Dr Han says that this current bidding war in AI means that many countries are potentially putting lives at risk by compromising safety in order to win the AI race.
He added: 'There is a temptation to cut corners on safety compliance in order to move more quickly than competitors. But if AI is not developed in a safe way, it could have catastrophic consequences.
'Many countries and organisations are battling to be the first to develop powerful AI. Google and Facebook, for example, have created big research labs for AI development. Terrorists want to develop powerful AI which is of course a huge danger to society. Cyber hackers can also take advantage if technology is not developed in a safe way.
'Movies have been made about potential AI catastrophes. It could include problems with driverless car technology, putting lives at risk. In an extreme, worst case scenario, robots could run havoc with the world if the companies creating them don't take safety and security seriously.'
---