New rehabilitation methods for improving recovery after a stroke
Academics at Teesside University are using their expertise to trial new methods of rehabilitation to aid motor recovery in stroke patients.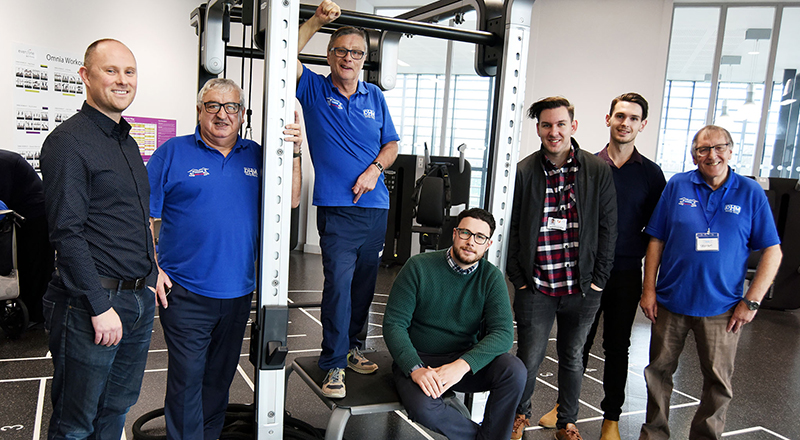 The researchers are working with Teesside Stroke Club, in conjunction with Public Health South Tees, to test the ideas outlined in their recently published academic journal.
Dr Daniel Eaves, Senior Lecturer in Sport and Exercise Science at Teesside University, published a paper in AIMS Neuroscience with a team of PhD students, calling for the introduction of a new post-stroke rehabilitation technique.
Strokes are the leading cause of motor deficiency in millions of people worldwide. Up to 60% of older adults are left with some form of chronic motor deficiency following a stroke.
Steve Foster, 62, from Middlesbrough, suffered a stroke in February 2013 and described the aftermath as a living hell.
He has been attending regular sessions at Teesside Stroke Club in conjunction with Public Health South Tees, for a number of years and is a participant in the extra rehabilitation sessions with Teesside University researchers.
'Life was dismal after the stroke – it is impossible to describe how low you go,' explained Steve.
'Coming to Teesside Stroke Club helps in so many ways – emotionally, physically, mentally, socially – I feel more like my old self again.
'I am always willing to try new things and working with the team at Teesside University has been great. We have been working on stacking cups, watching videos and trying to pre-empt the movement. I am not an expert, but it does seem to be making my brain work differently and they are extremely focussed and dedicated.'
In their paper, Dr Eaves and his students argue that imagining the feeling of movement while, at the same time observing a demonstration of the same action, means the video can act as a visual guide for the imagined action. This type of training, they argue, may help the brain to recover quicker than when using either demonstrations or imagery alone, which are currently prescribed post-stroke.
Dr Eaves said: 'The key point is getting people moving again and what we are doing is almost like physical practice – asking patients to imagine doing the movements, while they see the same action at the same time.
'It is about re-learning an action, repeating the same thing over and over again and monitoring how the brain and the participants' behaviour adapt to this form of training.
'Our previous studies show there is significantly more activity in motor regions of the brain if people watch an action while imagining it at the same time – and we are now investigating if that aids rehabilitation and improves daily lives.'
Ted Docherty, Chairman of Teesside Stroke Club, added: 'We have over 85 members and the sessions are a lifeline for some people. It is fantastic to have experts from Teesside University with us who are giving so many patients a real boost in their recovery.'
Val Jones, the Exercise Referral Programme Coordinator, said: 'Having PhD student Jack Binks and his fellow students delivering the research project, with their encouragement and support towards the clients, has been invaluable. It's a really positive experience for them as well as our team.'
It is fantastic to give our students the opportunity to work on research that makes a real difference to people's lives.
PhD student Jonathan Emerson was the lead author on the paper published in AIMS Neuroscience, along with fellow students Jack Binks, Matthew Scott and Ryan Kenny as co-authors. These students are also supported by various academics at Teesside University, including Professor John Dixon, Professor Paul van Schaik, Professor Denis Martin, Dr Chris Wilson and Dr Martin Tayler. As an undergraduate student, Ellis Eddy has also engaged in the stroke project for her dissertation.
Dr Eaves added: 'It is fantastic to give our students the opportunity to work on research that makes a real difference to people's lives.
'Our recent publication is based on our earlier cognitive neuroscience research into the effects of combined action observation and motor imagery. The next step is to analyse the data from our live on-going project, led by Jack Binks, and involving Teesside Stroke Club members, to determine exactly how beneficial this novel form of rehabilitation is for stroke patients over time.
'We are also looking forward to presenting these results at the Research in Imagery and Observation (RIO) Group annual conference being hosted at Teesside University on 25 and 26 April 2019.'
The RIO Group annual conference will see academics from around the world visiting Teesside to present their cutting-edge research on this topic. The event is free and will provide an opportunity to learn about research that impacts across disciplines, including applied sport and exercise science, clinical rehabilitation, physiotherapy, occupational health, human factors, cognitive psychology and neuroscience. To register, email d.eaves@tees.ac.uk, or visit the RIO Group website.
Members of Teesside Stroke Club have also been using the Teesside University student massage clinic, based within the School of Health & Social Care. Students in the clinic have welcomed the opportunity to work with patients from a range of demographics and have adapted their skills to suit the patients' needs.
In addition, Dr Stephanie Kilinç and Dr Lis Hammond from the University's Psychology department have a website to support people with long-term conditions, with tips and resources for patients and practitioners .They are also gathering stories on what helps people cope with their condition.
Collectively, this research supports Teesside University's grand challenge research theme of health and wellbeing.
---