Young autistic artist stars on TV with Davina McCall
A Teesside University student has been featured on national television with Davina McCall after overcoming childhood mental health issues and making his dream come true.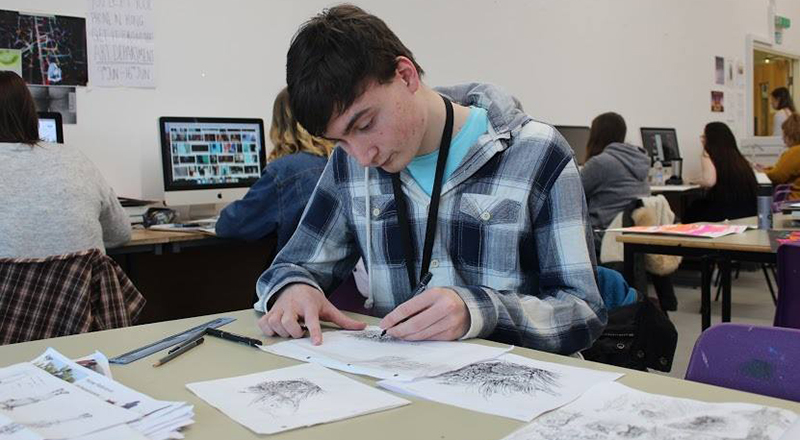 Jonathan Raiseborough, 20, of Darlington, appeared on ITV's 'This Time Next Year' having succeeded in becoming an illustrator of a successful children's book.
The TV programme features people who pledge to achieve something by 'this time next year' and Jonathan's challenge was to become a professional illustrator.
His ambition was turned into reality with the publication of a book called Snowdrop, The Spikeshuffler – a children's novel about an albino hedgehog who overcomes prejudice in the animal kingdom with the help of a wise old eagle.
Jonathan, who is autistic, worked on the book while also studying an art foundation course at Queen Elizabeth Sixth Form College in Darlington.
He said: 'Having the opportunity to illustrate the book and see all the exciting developments that have come with it has been such a life-changing experience. It was difficult to juggle the work along with college, but it's all definitely been worth it.'
The book's underlying message is 'never judge someone just because they're different' and Jonathan identified with the theme because he was bullied as a child due to his autism.
The book was supported by the North-East Autism Society (NEAS), which has adopted Snowdrop as its mascot. Jonathan has also been made an educational ambassador for the charity.
Researchers for This Time Next Year got in touch with Jonathan after reading about his inspiring story and he was taken to London's Elstree Studios to film 'before and after' episodes.
'Being on national TV was an unexpected but amazing bonus. It was a bit overwhelming but fantastic to meet Davina and share the story that led to my first published illustrations,' said Jonathan, who is now combining studying for a BA (Hons) Graphic Design and Illustration at Teesside University with launching his own freelance illustration business.
Animation graduates based at the University's digital studio brought the characters in the book to life, with the animations being used as a teaching aid in schools. Teesside University's digital studio helps steer graduates into professional careers by working with external clients to collaborate on live projects and gain workplace experience.
NEAS chief executive John Phillipson said: 'Jonathan is proof that people with autism and other neurodiverse conditions have talents and abilities that should never be underestimated.
'As soon as we heard about his brilliant work on the book, we wanted to help make his dream come true. Snowdrop The Spikeshuffler is selling well and proving invaluable in raising awareness of the charity.'
---
Course details
---