Jade shares her story to help others find their voice
A Teesside University student who battled anxiety and depression shared her story at a conference attended by HRH Princess Anne.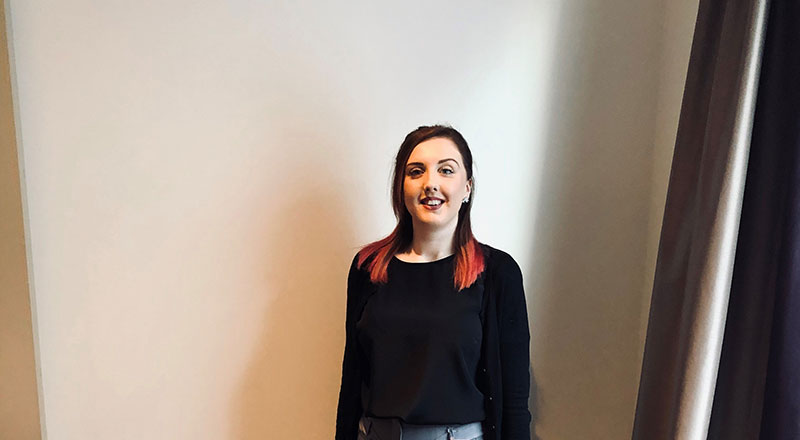 BSc (Hons) Psychology student Jade Barnes was invited to speak at the Learning and Work Institute Youth Commission Conference in London.
Jade joined guest speakers alongside the Learning and Work Institute's patron, the Princess Royal, who addressed the forum which was looking at ways to improve education and employment opportunities for young adults.
The Institute aims to help people reach their goals and fulfil their ambitions through education and skills enhancement.
Jade, 23, from Whitby, spoke about her own personal experiences in returning to education. She explained how her route to Teesside University had been via an access course, having struggled to overcome mental health challenges.
She said: 'I spoke about how I left education at college level aged 17 due to my struggle with depression and anxiety. I wanted to get back into education when I was 19, but struggled to find a way to make this happen.'
Jade was eventually accepted to study on an access course at Prior Pursglove College in Guisborough, which led her to start her psychology degree full-time at Teesside University.
She added: 'I was chosen to speak at the conference to give insight into the difficulties for those aged between 18 and 25 who are wanting to gain access into education.
I felt proud to be a part of something which could make a difference to the perception of adult learners
'I was extremely nervous about having to speak about my personal experiences in front of a large audience which included Princess Anne. It was an amazing experience meeting Princess Anne, she was very nice and made everyone feel at ease.
'It was great to hear her speak so passionately about her involvement with education in many aspects, over many years.'
Jade added: 'I felt proud to be a part of something which could make a difference to the perception of adult learners, and also make a difference to the opportunities which are made available.
'I feel that in recent years the awareness of mental health has become less stigmatised. There are so many helplines, support groups and health services that are easily accessible.
'From personal experience I think that if you or someone you know is having life altering experiences or mental health issues, the first step is admitting that you are suffering, either to yourself or to a trusted friend or family member. Once this acceptance is out in the open, it's the first step on the way to healthier life.'
---
---
---