Work gets underway on new accommodation project
Wates Construction has been appointed to build the new student accommodation development at Teesside University, marking another major milestone in the University's £300m Campus Masterplan.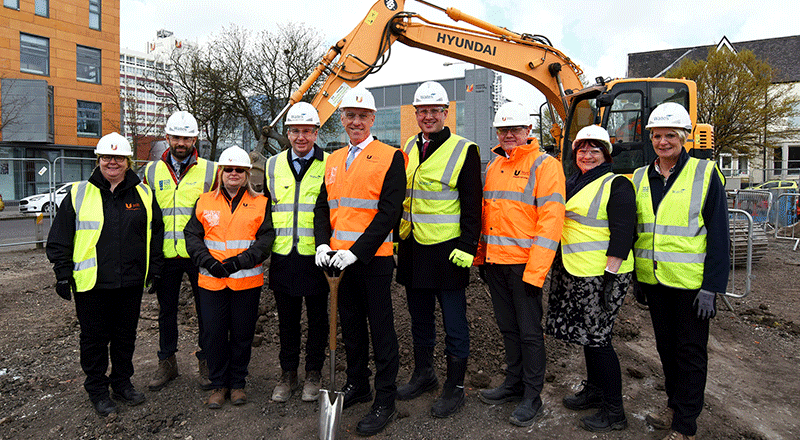 The £21.4m Cornell Quarter project will see Wates build a new 300-bedroom residential complex for students, arranged across 48 cluster apartments, each complete with communal facilities and with a proportion of rooms designed for students with special mobility needs.
Located off Woodlands Road and Southfield Road, the new 8,286 square metre development will also include a lounge, laundry facility, gym, a movie room, reception area and office space. Construction is expected to reach completion for the new academic year in 2020/21.
Wates' appointment to Cornell Quarter immediately follows the contractor's successful completion of the new National Horizons Centre, a UK Centre for Excellence for the Bioscience Industries which will deliver research, teaching and training from its home at Darlington's Central Park.
Throughout construction of Cornell Quarter, Wates will continue to deliver on its pledge to provide training and employment opportunities for local people. At the National Horizons Centre, this saw the team provide 19 work placements, 17 education visits and workshops and 145 apprentice hours on site.
Vice-Chancellor and Chief Executive of Teesside University Professor Paul Croney said: 'Our ambitious programme of investment will completely transform the campus over the next decade and reinforces our commitment to providing the very best student and learning experience.
'I am delighted to see work start on Cornell Quarter which will provide yet another fantastic accommodation facility of which our students can be proud of.'
Malcolm Page, Chief Operating Officer at the University, added: 'The University is committed to continuing to improve its student accommodation offer as part of the wider Campus Masterplan and the Cornell Quarter development is further evidence of that.
I am delighted to see work start on Cornell Quarter which will provide yet another fantastic accommodation facility of which our students can be proud of.
'Cornell Quarter will provide a first-class facility for students at the heart of the campus environment and we are proud to once again be working in partnership with Wates after they completed such a high quality and professional development of our new National Horizons Centre.'
David Wingfield, Business Unit Director for Wates Construction North East & Yorkshire, said: 'The team at National Horizons Centre did an amazing job and we are very proud to be continuing our work with Teesside University at Cornell and growing our business' presence across the North East.
'Cornell has been taken from project inception to site in just six months and this efficiency is a huge testament to our team's expertise and the strength of our relationship with the University. Furthermore, procurement via Scape Venture gives us a fantastic forum to ensure this project builds on the local impact of National Horizons Centre through our ongoing investment in training and employment for local people.'
Wates reached completion of the National Horizons Centre in March this year. The new facility has been established to support the bioscience sector, which includes biologics, biomedical sciences, industrial biotechnology and digital. It will play a key part in driving STEM skills and economic growth in the Tees Valley, through industry-focused education and training and collaborative research and innovation.
Both the National Horizons Centre and Cornell Quarter developments form part of Teesside University's £300m Campus Masterplan, a ten-year development scheme launched in 2017 which will completely redefine the campus over the next decade and provide a campus environment to rival any in the sector.
---
In the News
Work under way on £21m student block
The Gazette, p14, 16/4/2019
Work has begun on a £21.4m student accommodation development in Middlesbrough.