Ambitious projects set students on a journey to success
Students at Teesside University could be sky high with two unique projects which are putting their design skills to the test.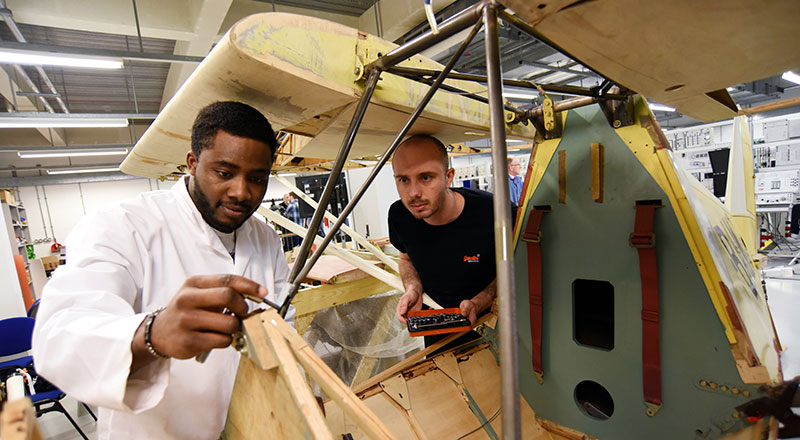 One group are in the process of rebuilding a Ganagobie 05 aircraft, originally designed in 1959, and are planning to get it flying with their lecturer at the controls.
Another group are using their varied skills to build two electric motorbikes and are working towards the ultimate goal of having them race-ready.
The projects are part of an initiative to allow students to hone their design talent on long term projects in which they need to apply the skills they would use in industry.
The Ganagobie 05 aircraft was gifted to the University five years ago and has never been cleared for flight in the UK.
Aerospace Engineering students, in the University's School of Science, Engineering & Design, are part of an on-going project to re-build the aircraft.
With the support of Principal Lecturer Dr Alexander Ellin, who has over 20 years' experience working on and building aircraft and who will ultimately fly the plane, the students have been working to extend the cockpit, fit a new engine, redesign the brake system and test the flight loads.
There is still plenty of work to do, but once completed and cleared to fly, it is anticipated that Dr Ellin will be able to operate the plane on a permit to fly.
'It is a time-consuming process because the students are learning to do everything from scratch,' explained Dr Ellin.
Oliver Riddle, 24, a third year aerospace engineering student who is working on the project, said: 'The original idea was just to use the aircraft for parts, but then it was decided to try and redesign and rebuild it. It will be a great achievement if we can get it ready and cleared for flight.'
Another group of Teesside University students are working to convert two old motorbikes into fully electric vehicles. The project involves students from a wide range of courses, including physiotherapy, chemical engineering and electrical engineering and is something they are working on alongside their academic studies.
We are taking them through the process step by step and equipping them with additional skills to support what they are learning during their respective courses here at the University.
The e-bike project involves one vehicle which is equivalent to a 125cc motorbike and will be able to reach speeds of 40mph. The second vehicle is a 45kw bike which, to be road-ready, will need to be able to reach speeds of 70mph.
Students are completely re-designing the bikes and replacing the engines with a fully electric system. The ultimate aim is to have one of the bikes ready to enter the TT Zero race on the Isle of Man.
Final year electrical engineering student David Grainger, 33, is one of the students involved and he has recently secured a job at MBDA Missile Systems, which designs, develops and produces missile systems to meet the operational requirements of the armed forces.
He said: 'It was because of the e-bike project that I was able to get the job as I was given an opportunity to present what we have done so far.
'It has been a really interesting and exciting project to be involved in and provides a great additional learning opportunity for students.'
Ethan Chapman, 25, a first year physiotherapy student, is also working on the e-bike project.
He said: 'My family are mechanical engineers and for me physiotherapy is similar to engineering, but on the body. I like thinking methodically and thought this would be an interesting project to get involved in.'
Neville Winter, Senior Lecturer in Electrical Engineering, added: 'This is a learning process for the students and they are only able to give a couple of hours a week to the project. We are taking them through the process step by step and equipping them with additional skills to support what they are learning during their respective courses here at the University.'
---