New degree apprenticeship teaches vital operating theatre skills
Healthcare staff can now learn the skills needed to play a vital role in the operating theatre, while they work, thanks to a new apprenticeship being offered by Teesside University.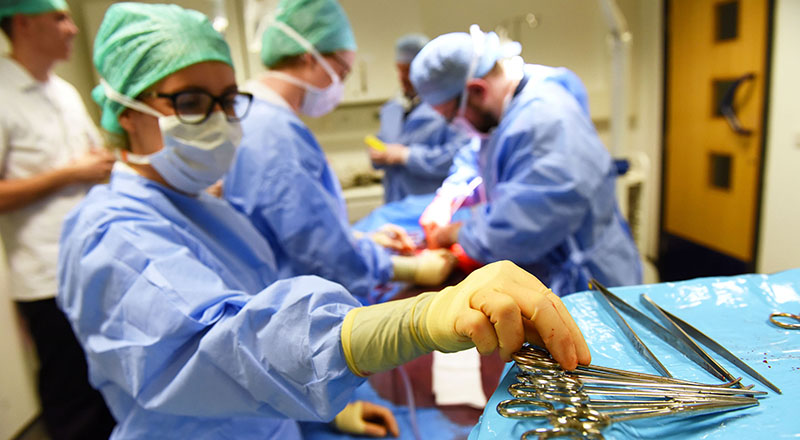 This year saw the first entrants to the University's Operating Department Practice Degree Apprenticeship.
The degree apprenticeship allows healthcare staff to earn while they learn giving them a chance to study for a degree while they are employed.
The apprentices study alongside full-time students enrolled on the University's BSc (Hons) Operating Department Practice Studies.
At the end of the three-year apprenticeship, the students receive the degree and are qualified to work as an Operating Department Practitioner (ODP).
In January, the first students from County Durham & Darlington and North Tees & Hartlepool NHS Foundation Trusts began studying the degree apprenticeship and there is further interest from other healthcare providers to enrol students on future cohorts.
ODPs are a vital part of the multidisciplinary perioperative theatre team, providing a high standard of patient-centred care during anaesthesia, surgery and post anaesthetic care (recovery).
Half of the degree apprenticeship is completed within a practice environment, where students gain experience across a variety of specialist areas such as general surgery, orthopaedic surgery, ear, nose and throat, anaesthetic and post-anaesthetic care.
This is supplemented by evidence-based learning within the University with lectures, seminars and practical activities in its clinical skills labs and simulated operating theatre.
Linda Nelson, Associate Dean (Enterprise and Business Engagement) in the School of Health & Social Care, said: 'It's fantastic that we're able to support the development of healthcare staff across the North East and further afield by offering our ODP degree as an apprenticeship.
'This patient-centred course prepares and builds upon our fantastic reputation as an outstanding deliverer of higher and degree apprenticeships.
'It equips students with the knowledge and skills to ensure they can contribute fully to healthcare delivery in a dynamic and fast-moving theatre environment.'
In March this year, Teesside University was one of the first higher education providers to have its provision subject to a full inspection by Ofsted.
Among the higher apprenticeships inspected were the Nursing Associate Apprenticeship and Healthcare Assistant Practitioner Apprenticeship which are also offered by the School of Health & Social Care.
The education watchdog examined the University's Higher Apprenticeship provision across five categories, rating every area as outstanding, from leadership and management, to learner outcomes.
---