Ryan's shortlisted design inspired by rail commutes
Interior design student Josh Ryan has been shortlisted for a prestigious design award.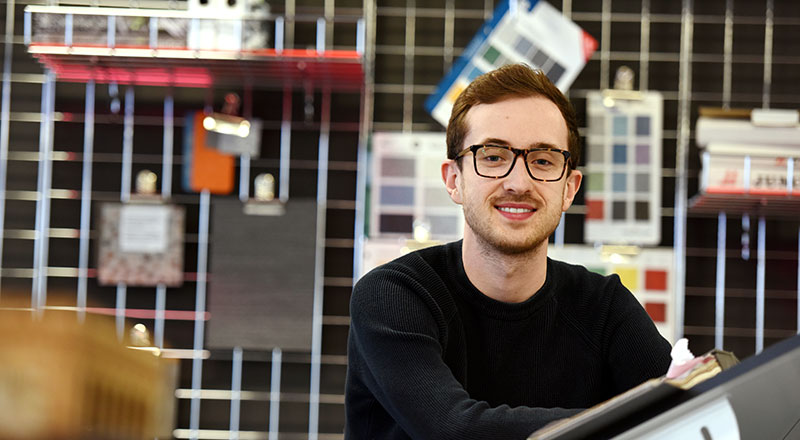 Josh, second year BA (Hons) Interior Design, is one of just seven students to be shortlisted for the 2018/19 RSA Student Design Awards Grand Station Designs brief.
The brief challenges students to design a way to reinvigorate and/or repurpose an ageing commuter train station building, utilising its existing structures and resources. The winning design will be awarded a RSA Fellows' Award of £2,000.
The judging interviews took place this month, when the shortlisted students were invited to discuss their competition entry and their other work with the judging panels.
The winners will be announced later this month, followed by an awards celebration at the RSA in June.
Josh was invited to present his project, Cross Platform, to the RSA judging panel in London.
His project looks at the issue of underused train stations, with some stations in the heart of communities suffering low footfall during off-peak hours, while others close for months at a time during engineering works.
This can lead to site deterioration due to reduced maintenance, increased vandalism, besides cutting off a network to work, friends and families.
Josh, whose research reveals how some local rail stations are suffering long periods of low usage, said: "With the all to frequent closure of independent businesses and loneliness being classed as 'deadlier than obesity' it became apparent that something was needed to break the cycle of these community issues, providing a space that would help would surely be a step in the right direction."
His solution involves creation of a modern, timeless commuter station waiting room, maintaining the primary function of a point of purchase for transport services. This regenerated space would become adaptable, collapsible, and transportable, in parts, in order to serve the community with the potential to be shared between local, connecting stations.
Josh said: "Cross Platform offers a viable alternative to under-used station buildings by offering them up as adaptable venues for community projects and small business launch pads."
Commenting on his RSA shortlisting, he said: "It is a real honour to be recognised in this way by such a prestigious society and judging panel. As a daily train commuter for almost six years, I am passionate about society recognising the unlimited potential these stations hold in our communities, from social hub to entrepreneurial opportunities.
"My proposed design solution provides an adaptable space with a timeless interior with the aim of allowing others to excel, succeed and inspire."
Neil McLaren, Senior Lecturer in Design in the University's School of Science, Engineering & Design, said: "We are all really pleased to see Josh has been shortlisted as it is a reflection of the quality of his work. It is always great to see our students' hard work and creativity recognised."
---
Courses
---