New bioscience centre delivers first training course
Staff from some of the region's most innovative companies have developed their skills in a cutting-edge area of protein science at a new centre of excellence for the bioscience industries.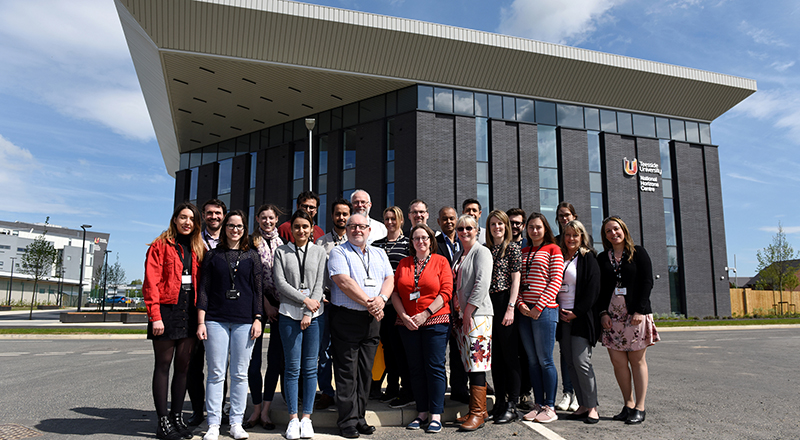 The new £22.3 million National Horizons Centre in Darlington hosted a three-day workshop on Practical Proteomics as its first continuing professional development (CPD) course.
Proteomics is the large-scale study of all the proteins present within a cell, tissue or organism.
The CPD course was led by Professor James Scrivens, a Research Professor at Teesside University and a leading expert in the field of mass spectrometry, who has published more than 100 peer-reviewed papers as well as numerous book chapters and industrial reports.
The National Horizons Centre is a state-of-the-art bioscience education, training, research and innovation facility specialising in providing the full range of skills for the biosciences sector, and in applying digital technologies to improve performance and productivity and foster breakthrough ideas.
Practical Proteomics was run in conjunction with Waters, one the world's leading manufacturers of analytical laboratory instrumentation. It was held in the NHC's state-of-the-art bioanalytical laboratory, a Waters Centre of Innovation (COI).
The course, which was attended by staff from companies such as Fujifilm Diosynth Biotechnologies, Quorn, GlaxoSmithKline and Hart Biologicals, consisted of a mixture of lectures and practical sessions on topics including:
data generation
bioinformatics
peptide analysis
separation science
recent developments in proteomics.
Professor Scrivens said: 'The NHC will play a pivotal role in tackling the rapid growth challenges facing the bioscience sector by collaborating with industry partners, addressing skills needs and creating and providing access to world-class research and facilities that enable new discoveries and opportunities.
'Proteomics is an inter-disciplinary study with numerous applications in fields such as medicine, food science and agriculture.
'It requires the identification and quantification of ever-smaller amounts of proteins in increasingly complex systems.
'The facilities and expertise at the National Horizons Centre enable us to achieve this in an automated, sensitive and selective fashion.
'It's fantastic to be able to work with companies from across the region to collaborate and share learning on this first CPD course, and we look forward to further partnerships.'
The NHC will play a key part in driving STEM skills and economic growth in the Tees Valley, through industry-focused education and training and collaborative research and innovation. The NHC has been financially supported by the Local Growth Fund, via the Tees Valley Combined Authority, and also by the European Regional Development Fund.
---