Natalie says studying at Teesside prepared her for life
Natalie Woods says studying at Teesside University not only prepared her for a future career; but it has also prepared her for life.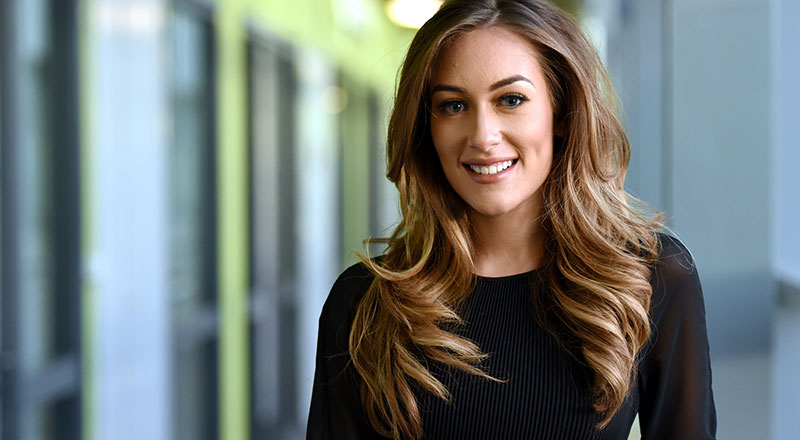 Moving to Teesside from Kuwait during her childhood, Natalie says she would not be where she is today without the support and guidance she experienced while studying the BA (Hons) Business Management.
Natalie's future looks bright, having just embarked on an operations management leadership programme with General Electric. Initially based in Aberdeen, she will relocate to a new worldwide location every six months during the programme's two-year duration.
She said: 'I completed a placement with General Electric in Newcastle while completing my degree and I am now starting my career with one of the world's biggest companies.
'Without Teesside, I would not be in this position. The placement enabled me to apply the theory I'd learned, while also providing networking opportunities.
'The programme I am completing with General Electric prepares participants to become the best leaders they can be. The degree has already helped to make me a rounded person, with the skills necessary for the real-life workplace.'
During her time as a student, Natalie, 22, led DigitalCity's Student Board, which spearheaded an initiative to increase the number of women studying and working in digital in the Tees Valley. As part of that initiative, Natalie was invited to London to present the board's findings to politicians at the House of Commons.
The facilities are amazing and the services which are provided ensure you to feel a part of a community.
She said: 'I wanted to go to a university where I would make a difference, so that one day I could look back and say I was a part of that. After reading about the investment and development at Teesside University I knew I would be able to achieve my ambition in making a difference.
'I have always felt passionate about business and the degree has provided a holistic view and an understanding of how organisational functions are interrelated. This is important to me, as I have always wanted to work my way up an organisation to CEO or director level.'
Natalie added: 'During my time as a student I have gained work experience and the confidence to network and present. I have gained leadership skills, communication skills, set objectives, motivated others and overcome challenges.
'The University campus is outstanding. The facilities are amazing and the services which are provided ensure you to feel a part of a community. Teesside University provides the support needed to make the best of your upward journey in life.'
---