Recognition for biological sciences student Ben
Biological Sciences student Ben Gay has been recognised in the NEPIC annual awards, which celebrates the region's brightest young apprentice talent from within the process sector and its supply chain.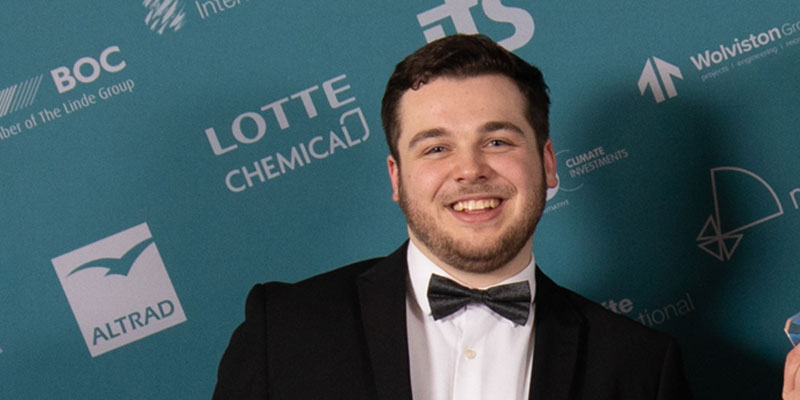 Ben, 25, from Darlington, was named Supply Chain Apprentice of the Year at the ceremony held at Hardwick Hall.
He is a fourth year degree level laboratory technician at CPI's Biologics site in Darlington. He is in the fourth year of the BSc (Hons) Biological Sciences at Teesside University.
Ben said: 'I'm very proud to have received this award, and am grateful for the recognition of the value apprentices can add to the sector.
'The degree apprenticeship route has really allowed me to push myself, with my studies at Teesside providing a theoretical basis which I can apply and expand upon in the workplace.'
He added: 'Both Teesside University and CPI have offered me lots of opportunities and support to develop in the early stages of my bioprocessing career.'
Ben started his apprenticeship journey as part of the operations team before a move to the Downstream team where he took on responsibility for many of the tasks associated with a busy and smoothly run Biotech laboratory.
The degree apprenticeship route has really allowed me to push myself
Described by his peers as a technically accomplished, high performing and talented scientist, Ben shows the presence and confidence of someone with more time spent in the laboratory.
Able to build on the background gained from his studies and effectively apply it to current projects, Ben has developed knowledge and experience which has been described as invaluable to CPI, with his participation in projects highly prized.
Ben is described as having a talent for supporting the next generation of budding scientists and is an active member of STEM delivery events coordinated by CPI.
During his time at CPI, Ben has gained widespread knowledge and experience across a range of industries working on both commercial and collaborative projects with academia, suppliers and technical specialists.
---