New course to educate chiropractors in the region
A new course which will educate chiropractors in the region has been launched by Teesside University.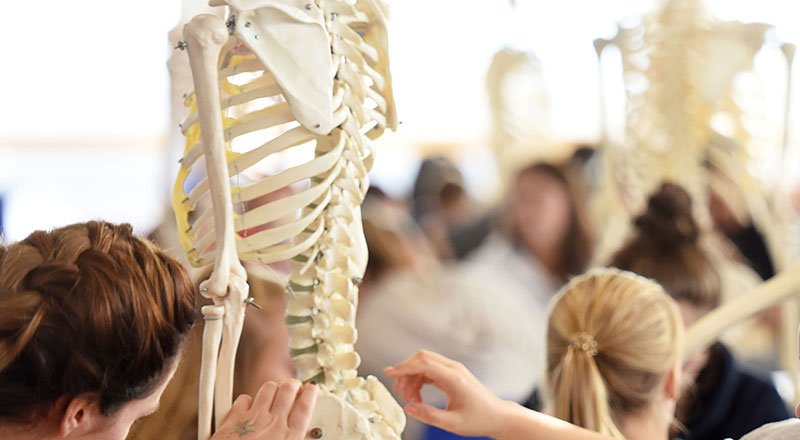 Chiropractic is a health profession concerned with assessing and treating problems associated with the musculoskeletal system and the associated impact on a person's nervous system and general health.
The new MSci (Hons) Chiropractic, which starts in September, has been developed by the University and partners working in the sector to help increase access to chiropractors and work alongside professional groups such as physiotherapy and sport and exercise rehabilitation.
Ruth Mitchell, Head of Department in the University's School of Health & Life Sciences, explained that there is a desire from the chiropractic community to increase the number of registered chiropractors within the northern region.
Students will learn theory and clinical skills in an environment specifically designed to replicate the chiropractic work setting, with a designated clinical skills laboratory with specialist equipment and development of a student-led chiropractic clinic on campus. Alongside this, students will be introduced to various chiropractic and healthcare settings from the start of their studies.
Ruth said: 'The first two years of the course will involve practice placements within a variety of healthcare settings. Students will also spend time in a chiropractic setting which will introduce them to a range of concepts of professional practice.'
By the third year and during the fourth year, students will embark on an internship within the on-site chiropractic clinic at Teesside University, which will be open to the public. The students will work under the supervision of registered chiropractors, who will support the students to develop their skills of assessment and treatment. All of the practical work will be underpinned with the knowledge and theory drawn from academic study.
The course will be attractive to students seeking to pursue a career in healthcare, or those seeking a new career direction.
Ruth added: 'The beauty of this innovative course is that chiropractic, physiotherapy and sports therapy students will have the opportunity to learn together within the School of Health & Life Sciences.
'The course will be attractive to students seeking to pursue a career in healthcare, or those seeking a new career direction.
'We have received superb support from chiropractors across the region who have been involved with the creation of the course and who are keen to maintain those relationships with the University.'
Satjit Singh, Chief Executive of the Society for Promoting Chiropractic Education said: 'Working closely with Teesside University, we have been impressed at their commitment to develop and deliver this highly innovative programme to train chiropractors in the region.
'The facilities on offer at the University are world class and the opportunity to train with students from other healthcare professions is a very positive development. We look forward to supporting them as they bring it to fruition.'
---
Course details
---