Dedicated student donates dental supplies to care homes
A dedicated Teesside University student has been donating hundreds of oral hygiene aids to help some of the most vulnerable people during the Coronavirus pandemic.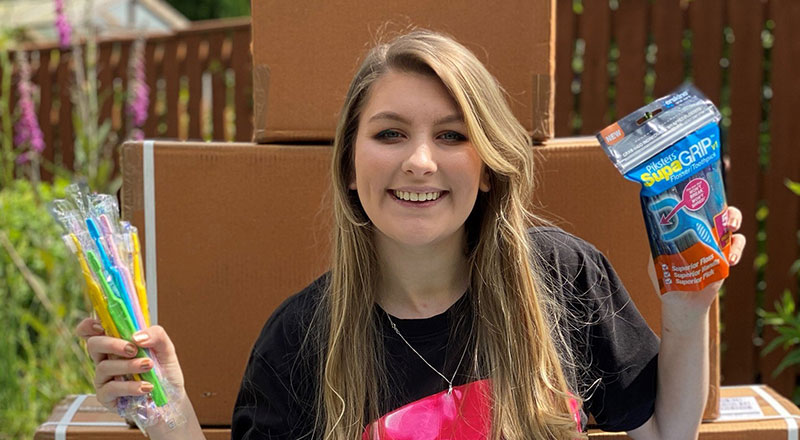 Second-year dental hygiene and dental therapy student Tamsyn McKenna knows the impact good oral hygiene can have on health, and she wanted to put the expertise she had gained on her course to good use during these challenging times.
After reading about the link between poor oral health and the increased risk of respiratory diseases, Tamsyn was determined to improve access to oral hygiene products for the most vulnerable people in society.
Immediately, Tamsyn set about contacting several oral hygiene brands, including BioMin, TePe, Piksters and Oralieve, to ask if they would be willing to donate any of their products and she received an overwhelming response.
Between them, the companies generously donated 500 full-size toothpastes, toothbrushes, dental floss, interdental aids and flossets, which Tamsyn has been busy donating to care homes.
Tamsyn, 23, from Gateshead, said: 'For me, this pandemic has brought to light what is important – helping others. I have managed to complete my university work and still have the time to volunteer and donate to those in need.
'I am so grateful to the companies I have been working with for their generous donations. As a student dental hygiene and dental therapist, I understand that good oral health is paramount, and I am pleased to be able to help provide some of the most vulnerable people with access to oral hygiene products.'
This pandemic has brought to light what is important – helping others.
Tamsyn is still donating the much-needed products and hopes to help even more vulnerable people in care homes in the days and weeks ahead.
When Tamsyn completes her degree studies, she will be a qualified dental hygienist and dental therapist, able to provide preventative and non-surgical periodontal treatments to adults and children.
Harriet Boyd, Course Leader for BSc (Hons) Dental Hygiene and Dental Therapy in the University's School of Health & Life Sciences, said: 'I am immensely proud that Tamsyn is a student on our course. Since she began with us, she has shown great determination to get involved in the community and educate those around her in dental prevention.'
She added: 'Tamsyn is targeting support for a group of really vulnerable adults. People living in care homes are at greater risk of oral health problems, and with access to care being more complicated during this particular time, the oral health products that Tamsyn has sourced will be of huge benefit.'
---
Course details
---