Gold recognition for Teesside University
Teesside University has once again been recognised for its commitment to supporting veterans and members of the armed forces - this time receiving a gold award for its work.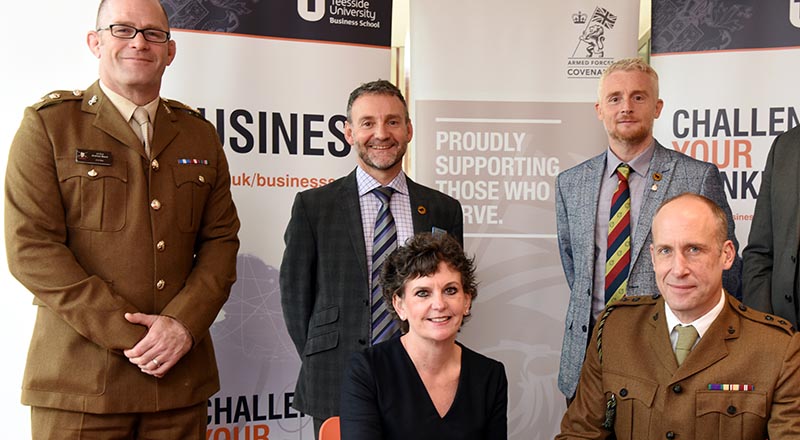 The University is among 127 new employers and organisations which has received the Defence Employer Recognition Scheme Gold Award.
Last year the University received the Silver Award in the Defence Employer Recognition Scheme for its work to support service personnel and their families – but has now been upgraded to Gold status.
To be recognised, employers and organisations must demonstrate that they provide ten extra paid days leave for Reservists and have supportive HR policies in place.
They must also advocate the benefits of supporting those within the Armed Forces community encouraging others to sign the Armed Forces Covenant and to engage in the Employer Recognition Scheme.
2020 marks the seventh year of the awards scheme, with this year's 127 award winners joining a total to 353 organisations who can share their knowledge and experience of the benefits of employing those from the Armed Forces community.
Teesside University signed the Armed Forces Covenant last year, pledging to acknowledge and understand that those who serve or who have served in the armed forces, and their families, should be treated with fairness and respect and should not be disadvantaged by their service.
In addition, the University demonstrated that it employed members of the armed forces community and that it supported members of the workforce who are reservists.
Service personnel can bring a wealth of talent and experience to an organisation so we're proud to support them.
Teesside University Business School also hosted an Employer Engagement Symposium, which brought together business people from across the region to explore ways in which they could benefit the North of England Armed Forces Business Forum.
Juliet Amos, Executive Director of Human Resources at Teesside University, said: 'We are delighted to receive this award and build on last year's recognition. To now have Gold accreditation underlines our commitment to ensuring that veterans and their families are treated fairly and that we recognise the value they can bring to a business.
'Service personnel have a wealth of talent and experience and we are proud to demonstrate our support.'
Johnny Mercer, Minister for Defence People and Veterans said: 'The breadth and diversity of the winners this year shows how business support for the Armed Forces continues to grow no matter the sector, company size or location.
'I am delighted that so many companies are supporting our people and that, through this scheme, we can give them the public recognition they deserve.'
---