Family duo helping to keep the campus community safe
During a year which has been like no other, a mother and daughter duo are proud to be part of a Teesside University team who share a vital role in helping to protect the health and safety of the campus community.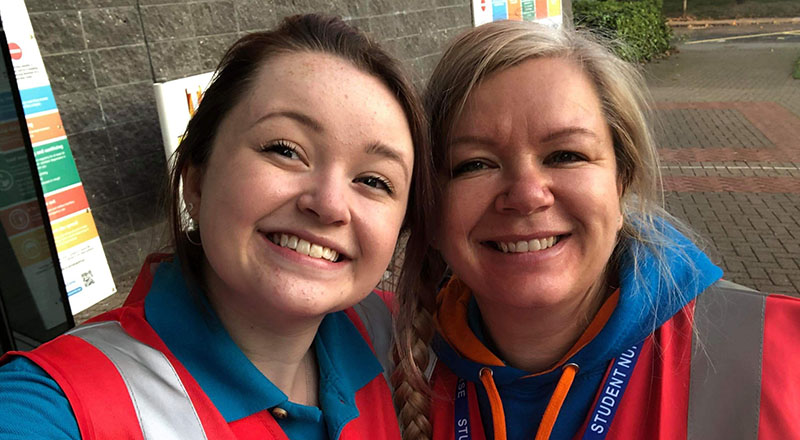 Amanda and Dani Taylor, who are both studying at Teesside University, are among a team of covid marshals who are helping staff, students and campus visitors to recognise the critical role that everyone across the University must play during the ongoing pandemic.
Covid marshals were introduced as part of a range of safety measures now in place, which also includes one-way routes, signage and hand sanitising stations to prioritise the safety, health and wellbeing of everyone across the campus.
The covid marshals play an important role in reminding people to wear face coverings, to sanitise their hands and to follow the one-way systems within all buildings. They also monitor building capacity to help with flow of people.
Amanda, 48, from Crook, County Durham, is a third year BSc (Hons) Nursing Studies (Child) student. She said: 'I hope my presence helps to make people feel safer about being back at University.
'We provide face masks, gloves and information. We also monitor study spaces and record who is using them. We aren't here to enforce anything, just to deliver a soft message about the measures the university has put in place.'
Amanda added: 'As a student nurse, communication is a key part of my studies both in the theory and when on placement. Being able to deliver the university's key messages on social distancing in a non-threatening way is important.
'I've enjoyed getting to know everyone I've been working with as a covid marshal. We've become a little high vis team. We all look after each other when needed, Dani is always walked home when she finishes late and there are often staff offering to make coffees on cold mornings.'
I hope my presence helps to make people feel safer about being back at University.

Dani, 20, a second year BSc (Hons) Psychology, added: 'I was keen to become a covid marshal as I wanted to help keep people safe.
'With current restrictions it's hard to go out and meet new people, but by doing this role I've thoroughly enjoyed chatting to people I wouldn't usually get an opportunity to meet. Working with the University's security team has been loads of fun and the entire team is so friendly and helpful.'
Dani has also brought a bit of creativity to her role, adding: 'We were given little orange pompom characters advertising SafeZone at the start of the semester and I've been slowly leaving these little guys – who I call Steve - across different buildings on campus. I did it in the hope that it would cheer people up by seeing them pop up everywhere. I know they've cheered me and some of the other marshals up.
'I am really grateful for the opportunities I have been given while carrying out this role and I've felt my confidence in talking to new people grow. My knowledge of the university has grown too and it has been great being able to feedback in relation to how people have adapted to the campus reopening.'
---