Teesside University championing positive mental heath
Every year, one in four of us will experience a mental health problem according to the charity Mind - ranging from anxiety, depression and stress, to phobias and other disorders.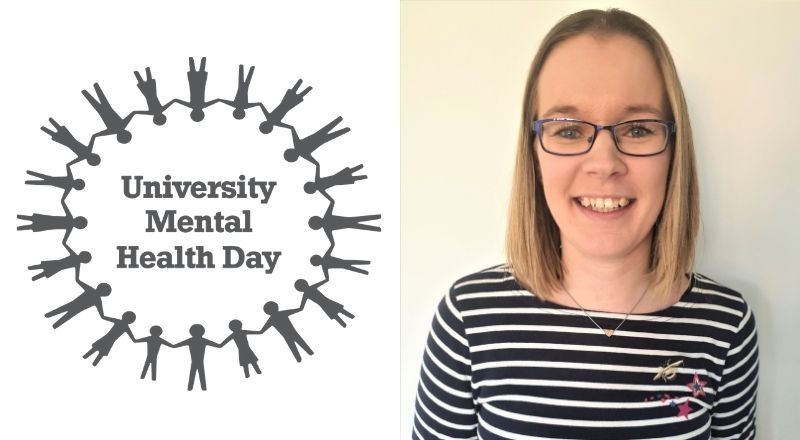 University Mental Health Day on Thursday 4 March aims to raise awareness of the mental health challenges faced by students and colleagues across the higher education sector, and to provide essential support and advice to those who need it.
Teesside University is proud to work with Mind as part of its Mentally Healthy Universities Programme, an ongoing initiative to help and support anyone experiencing a mental health problem.
The University has recruited and trained a team of staff Mental Health Champions to encourage colleagues to talk openly about their mental health and to seek help when they need it.
Gemma Crossen, a manager in the University's Legal and Governance Services department, recently volunteered to become a Mental Health Champion.
She said: 'Being a Mental Health Champion is all about helping colleagues feel more comfortable about discussing mental health issues in a work setting. We're not counsellors, we just want to start a conversation and signpost people to the help they might need.
'There is still a stigma associated with mental health, and sometimes people feel a problem isn't real without a diagnosis and they can be reluctant to ask for help.
'Different people face different mental health challenges, and they also vary in terms of severity. Some issues may be diagnosed but others may not be and that doesn't make them any less important. Any mental health problem can impact on a person's daily life until it's managed.
'Fortunately, there are lots ways to improve your mental wellbeing. Personally, I try to plan my daily tasks and what I want to achieve so my workload doesn't feel overwhelming. I also make sure I take time to do things I enjoy such as going for a bike ride with the kids or having a long hot soak in the bath. I am also grateful for my family support network.
'Other things to try might include developing a new hobby or taking some time out every day to think about your own wellbeing and needs.
Being a Mental Health Champion is all about helping colleagues feel more comfortable about discussing mental health issues in a work setting.

'Good mental health can include being able to manage a range of emotions, or deal with change in a positive manner. It can also be about maintaining good relationships with others, appreciating what you have got, and looking after your physical wellbeing.'
Gemma thinks that one of the best things people can do to improve their mental health is to talk about it.
She explained: 'Sometimes people having mental health problems can't see a way forward and feel like they don't know where to turn for help, but there is always support available.
'It might be as simple as talking about your problems to a friend or colleague you trust. The University Occupational Health team or one of our Mental Health Champions are always available to listen, and we can put people in touch with organisations such as Mind, The Samaritans, Rethink, or Shout.'
Gemma's comments are echoed by Juliet Amos, Executive Director of Human Resources at Teesside University.
'The ongoing COVID-19 pandemic has affected people's mental health in a variety of ways and to varying degrees,' explained Juliet.
'Working from home has been challenging for many of our colleagues, as they've had to learn to balance their day jobs with home schooling, childcare and other commitments.
'Our Occupational Health Team is on hand to help anyone who might be finding it hard and who wants to talk.'
As part of the Mentally Healthy Universities Programme, Teesside University is also helping students manage their mental health and develop the knowledge and skills they need to build their own resilience.
Working with Middlesbrough and Stockton Mind the University is hosting a series of online sessions to provide students with a range of practical tools and techniques to enhance their mental health and wellbeing.
---