Students strive to support project helping the homeless
Psychology and counselling students took a dip in the North Sea to raise funds during their degree studies for a project which offers help to the homeless.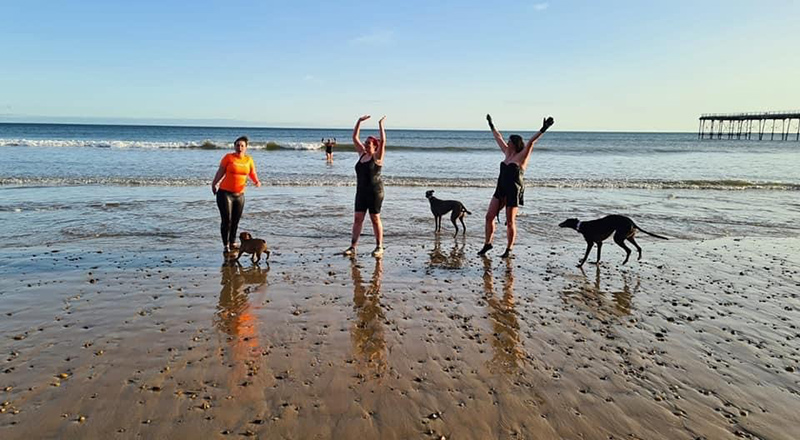 The Teesside University students, Debbie Turner, Nadine Snelling and Maria McSorley, who are all in the final year of the BSc (Hons) Psychology and Counselling, decided to raise funds for the Moses project after developing links with the organisation while completing the counselling module of their degree.
The Moses Project, which is based in Stockton, runs a drop-in service to provide a hot meal and a safe environment for adult males. They offer guidance, mentoring and support to men with past and current addictions to drugs and alcohol. They also offer help relating to housing and benefits while introducing clients to a positive lifestyle, encouraging them to break free from addiction.
Dr Catherine O'Neill, senior lecturer in psychology in the University's School of Social Sciences, Humanities & Law, said: 'Our final year psychology and counselling students completed a module themed around homelessness. As a result of the topic, a group of students decided to raise funds for one of the organisations they interviewed as part of their assessment.
'We thought it would be a good way to do something positive as a group to lift our spirits during the winter lockdown and give something back to one of the organisations that was interviewed. They created a number of challenge events, which both students and staff in the department completed within social distancing guidelines.'
Brian Jones, of The Moses Project, said: 'We are really touched by what the students have done to support The Moses Project and the people who use our service. What they've done is amazing. We are working towards reopening soon.'
This module has inspired me and opened my eyes tremendously as to the complex nature of becoming and continuing to be homeless.
Debbie said: 'As part of our course, we carried out a service evaluation over a Microsoft Teams video call. Originally it was supposed to be face-to-face, however due to COVID-19 that could not go ahead.
'We were all looking at doing some volunteer work with the Moses Project, but again due to COVID-19 that could not happen. We decided to fundraise, as we were inspired by what Brian and his wife Stella were undertaking to support the homeless people and were motivated to be part of it.'
They raised over £1,000 by completing various challenges, which including a dip in the sea at Saltburn. They also organised a couch to 5km running challenge, with fundraisers also helping to clock up a 100km run.
Debbie added: 'This module has inspired me and opened my eyes tremendously as to the complex nature of becoming and continuing to be homeless.
'Organising the sea dip was a truly enjoyable way to raise money for this amazing charity and after accomplishing it, I am now regularly swimming in the sea and have set myself a personal goal of swimming a mile competently in the North Sea before the end of this summer.'
Maria added: 'The course and this project has made me aware that anyone can become homeless and that homeless people have such a vast range of complex needs and many things contribute to being homeless.'
---