Young entrepreneur in the spotlight
The co-founder of a video marketing agency which established links with Teesside University during its early days has been named in the 30 under 30 Forbes list.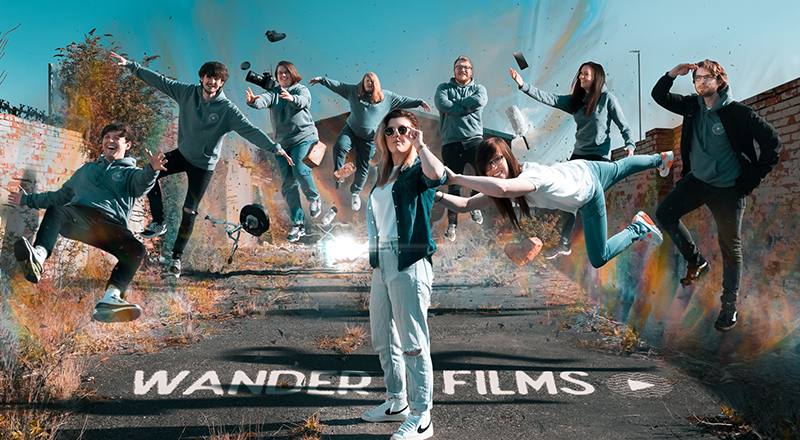 Chloë Clover is among Europe's leading young creatives and entrepreneurs being celebrated in the Forbes 30 under 30 list for marketing and media.
Chloë, from Redcar, co-founded Wander Films with partner and Teesside University film and television production graduate Lou Tonner while travelling in Australia a few years ago. They continued travelling while producing social media video content for businesses, before returning to Teesside in 2018.
Since returning to Teesside their business has steadily expanded, with Wander Films now employing 10 people.
Initially based in Teesside University's Launchpad business incubation premises on Victoria Road, Wander Films moved to Middlesbrough's Boho 5 in 2019.
Teesside Launchpad is central to the growth of an entrepreneurial culture at the University, having recently undergone an extensive refit as part of the creation of a £5.6 million University Enterprise Zone on the Middlesbrough campus.
Much more than a business incubator, Teesside Launchpad also plays a vital part in the enterprise ecosystem of the Tees Valley, particularly among the digital industries. Working with the University's DigitalCity and Middlesbrough Council, it provides a seamless pathway for digital businesses to grow into Middlesbrough's Boho tech hub.
Teesside University is also positioned among the strongest universities in the country for growing skills, enterprise and entrepreneurship. The Knowledge Exchange Framework (KEF), a national indicator for how well universities are supporting the economy, has assessed Teesside University as being in the top 10% of 135 English Higher Education Providers for skills, enterprise and entrepreneurship development and support.*
The Wander Films story is a superb example of the impact of the complementary support systems we have developed here
Since establishing those early links with the University's Department of Academic Enterprise, Wander Films has gone on to be involved in various programmes which aim to help entrepreneurs to establish and grow their businesses.
These range from the Leading Growth programme and DigitalCity Fellowship Accelerator to working with the Grow Tees Valley team, which aims to help young business thrive.
Wander Films has also recently taken on a graduate intern through the University's Graduates for Growth programme.
Steve Dougan, Head of Enterprise in the University's Department of Academic Enterprise, said: "The Wander Films story is a superb example of the impact of the complementary support systems we have developed here at Teesside delivering results, empowering and enabling two amazing founders.
"I still remember Chloë and Lou walking into Launchpad at the start of that journey and it is wonderful to watch how they have grown, with input from teams across DAE, and personal support from key people. This story I am sure has only just started. We are very proud of them both."
Chloë said: "Honestly, being on the Forbes list is incredible, it's wild to think we made it onto something like this!
"I'm so, so proud of the whole team at Wander, we're really trying to do something special and an acknowledgment of that is such an amazing feeling."
She added: "Teesside University has been invaluable to us as we've grown, we're so lucky to have been supported by so many different departments, we were really pushed to be the best we could be. We're blown away with all the support from the University and excited for the future as our relationship develops.'
---