Student film wins regional title in prestigious awards
A film by a Teesside University team has won the animation category in the Royal Television Society North East & The Border Student Awards.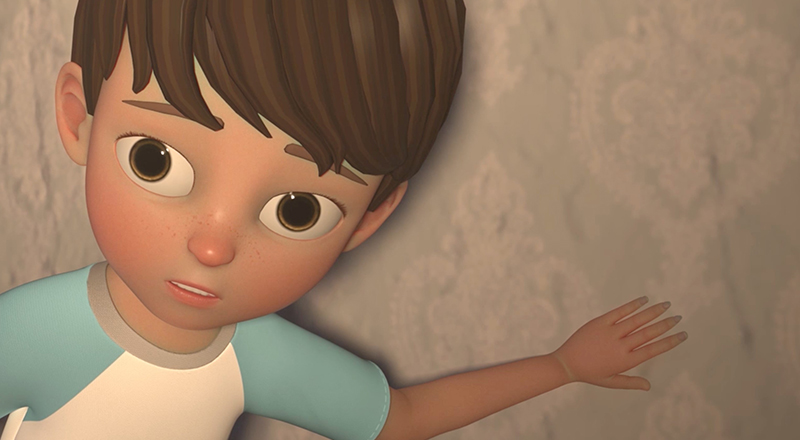 The animated film Otherwhere tells the story of a young boy who suffers from terrible night terrors. One evening, he sees a glimmer of hope that could end his night terrors forever.
The short film was created by School of Computing, Engineering & Digital Technologies graduates Rob Leonard, Jordan-Lee Tyreman, Shaw Connor Williams, Connor Lloyd, Thomas Bates, Jack Winspear, Marmik Rana, Thomas Knight and James Kilpatrick. Music was by Steve Syz.
Their film will now go on to the next stage of the national Royal Television Awards.
Rob, who is now working with Creative Assembly, said: "I was of the two animators and I worked on the animations for the spider character and the chase scenes. I also was our team's producer and kept track of how the project was going overall.
"As a team, we spent so much time and effort into the project right from the start, from our initial brainstorming sessions to figure out what our story was going to be, right to the end when we could finally sit down and watch it as a team. To be recognised for the work we all put in was a really rewarding feeling.
"I worked on the film during the final year of my degree and while studying, my career aspirations were to land a job in the animation industry. Shortly after finishing my final year, I was hired by Creative Assembly to join their animation department as a trainee.
"Studying 3D animation at Teesside has definitely helped me. I went from having very little understanding, to working in a professional environment where my animations go directly into games played by thousands of people."
Studying 3D animation at Teesside has definitely helped me
Jordan-Lee, who also graduated this year, added: "Otherwhere was very much a team effort from start to finish, we were all very hands on with it and everyone helped out where they could. I was the director and overlooked the whole project, helping us to follow our original idea as much as possible.
"It was such a blast working with a group of such wonderful hard-working people. Winning the regional RTS award for animation is absolutely amazing. I feel so proud of all our hard work.
"The degree course was amazing, I learned a tremendous amount and picked up many skills in my time at the university. Everything I learned was instrumental to getting into the industry."
Sabrina Schmid, Senior Lecturer in Animation in the University's School of Computing, Engineering & Digital Technologies, said: "It is also hugely rewarding for the team of animation staff to see their students' fantastic work to be recognised and celebrated - receiving a nomination or an award in animation is a great honour and recognition for our students and courses."
Justin Greetham, Senior Lecturer in Visualisation & Graphical Applications, added: "Yet another accolade to add to our expanding trophy cabinet and another year in which Teesside University secure their place as the number one university with which to study animation in the North East and Border district.
"Students and staff put in a gargantuan effort to finish this two minute and 41 second computer generated feast of animation, that takes the viewer on a night time journey filled with night terrors, smoke devils and giant spiders."
---