Teesside University students use their expertise to provide support for teachers in India
Specialist learning materials have been provided to a school in India as part of a partnership led by Teesside University which is offering additional support to teachers and pupils.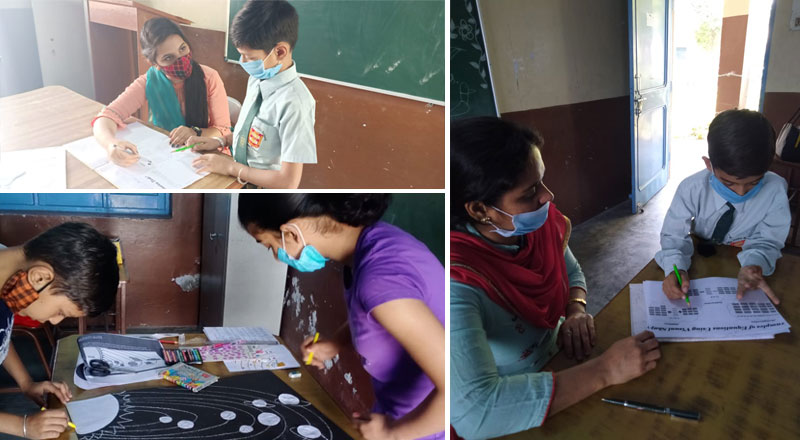 Second year students from Teesside University's BA (Hons) Childhood and Youth Studies, within the School of Social Sciences, Humanities & Law, have created unique educational materials to help teachers from the Alpine Public School in Bhawanigarh, North India.
Dr Chris Counihan, Lecturer in Education at Teesside University, teaches the second-year employability and work-related learning module, which encourages students to undertake placements and tasks in career-related areas. Students were asked to research the Alpine School and its curriculum needs, whilst ensuring any learning materials created would work on a practical level.
Six students from Teesside University successfully developed learning materials, ranging from lesson plans, activity schedules, workbooks, and journals, suitable for use by the teaching staff in India. The materials were created around themes on a particular topic such as literacy, maths or science, with the aim of offering teachers an easy and simple way to communicate to the children in India.
Students studied lesson plans to ensure the tools provided were relevant and worked hard to overcome challenges relating to language barriers and time differences, whilst also monitoring the developing situation in India around the Covid-19 pandemic. Once finalised, the learning materials were sent digitally to the school, offering Teaching solutions which could be used annually if necessary.
We are so proud of our Teesside University students; they have worked hard to provide teachers in India practical materials to make a real difference to how they communicate and engage the children in learning
Teachers from the Alpine School have commended the materials they received, which encouraged them to think creatively and helped them engage with the children.
One of the learning materials encouraged children to use paper templates to create the solar system.
Ms Amandeep Kaur, from the Alpine School's Science faculty, said: "The whole class has enjoyed the features of 'learning by doing,' students were able to clearly recognise various planets they had made from paper."
A further task, created by Teesside University students, involved the use of flash cards during Maths lessons.
Mr Bhupinder Singh, from the Alpine School's Maths department, praised the learning tools and said: "All of our children were able to learn counting by using these materials. It proved a simple, yet effective, method for them all to understand."
Teesside University and the Alpine public school are currently exploring the possibility of synchronised sessions, and student partnerships, to offer an enhanced collaborative experience between students, teachers and the school's pupils.
Dr Chris Counihan, Lecturer in Education at Teesside University, said: "We are so proud of our Teesside University students; they have worked hard to provide teachers in India practical materials to make a real difference to how they communicate and engage the children in learning."
---