National recognition for commitment shown by nursing academic
Inspirational work by a Teesside University academic to support learning disability nursing colleagues and students across the country during the pandemic has earned him national recognition.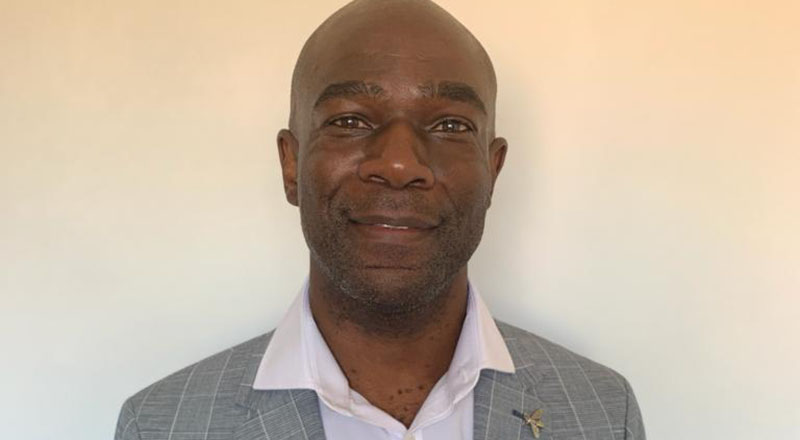 Chris Dlamini, Senior Lecturer in Learning Disabilities in the University's School of Health & Life Sciences, has received a Silver Award from England's Chief Nursing Officer Ruth May, for his work to support the learning disabilities community.
The prestigious and coveted Chief Nursing Officer Silver Award recognises major contributions by NHS nurses to patients and the profession.
Ruth May spoke to Chris online during the Third National Learning Disability Nurse Symposium, telling him: "I want to say a personal thank you."
She explained how lots of people have written to her about the many things Chris has initiated nationally, from support networks for learning disability nurses to celebratory events to bring the learning disability nursing community together.
Ruth added: "I really appreciate you doing that, as it is important to celebrate the contribution that you all make individually to the clients you serve.
"Chris, I want to say a personal thank you, from me to you, for your personal leadership of learning disability nurses and I would like to give you a CNO Silver Award to show our appreciation."
Chris said: "This is a great surprise and it is nice to be recognised, but I would not be doing what I am doing if it was not for people with learning disabilities who have inspired me and allowed me to enter into their lives.
"I have met so many talented and inspirational colleagues while working with them. I am grateful to be part of this roll call and I promise to continue to do the best I can do."
Chris was also involved in leading the #keephoLDNon social media initiative, a project he helped to develop during the first Covid-19 lockdown last year.
The project has now been shortlisted for the Team of the Year Award in the Royal College of Nursing Awards, with the winners in a range of categories to be announced at a ceremony on October 12, later this year. The awards aim to recognise the commitment and innovation demonstrated by nurses in a wide range of roles.
The aim of the #keephoLDNon project has been to inspire and encourage learning disability nursing students and help them to maintain well-being during the pandemic.
Chris joined forces with other learning disability nurses across the country to form a team which creates heart-warming films with contributions from members of the learning disability community, with support from a range of celebrities.
The RCN Nursing Awards judges said of the #keephoLDNon team: "They have had a significant impact, not only in raising spirits but also awareness about learning disability nursing. The first film has been viewed more than 9,000 times, while the sequel had over 1,500 views in the first week.
"On Twitter, the hashtag #keephoLDiNgon has been used by 398 contributors, with 3,101 tweets with a total reach of more than 95 million before it was changed to #keephoLDNon in June 2020."
Acting RCN general secretary Pat Cullen said: "These finalists demonstrate the very best in nursing and I am so proud of all of them.'
Foundation of Nursing Studies chief executive and awards judging panel chair Joanne Bosanquet said: ''The shortlist showcases excellence and recognises the huge difference that the nursing team makes to people's lives throughout the UK, not least their enormous contribution to the pandemic response."
---
In the News
Silver award for Teesside lecturer in work for learning disabled
Northern Echo (online), Web, 10/07/2021 A senior lecturer at Teesside University has received an award for the work he has done across the country to help those with learning disabilities.