Cryptocurrency: why the rise of virtual currencies matters to business
By Dr Chi Lau
Senior Lecturer in Economics
Behind the crypto-hype, virtual currencies and the technology that underpins them will profoundly change the way we trade.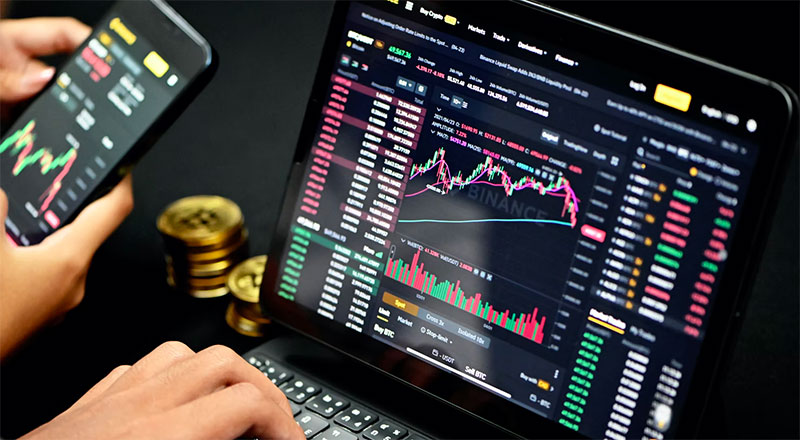 When finance stories make it onto national news bulletins it's normally for the wrong reasons: the financial crisis early 2000s led to a run on the banks and real worries about whether our savings would be safe. Those who can recall the runaway inflation of the 1980s will remember the impact of the economic crash which followed.
So, in a year where stories about the soaring value of Bitcoin which has risen at different points to over £30,000 in value, Etherium and Dogecoin have been all but impossible to avoid in the mainstream and social media, what should we make of the rise of cryptocurrency out of the shadows and into the mainstream? And what, if any impact, will it have on business?
The value of cryptocurrency
It's worth starting with an explanation of what we mean by a cryptocurrency.
Investopedia gives a good definition: a "digital or virtual currency secured by cryptography." This makes it nearly impossible to counterfeit or double spend. Many crypto currencies are based on blockchain technology – a distributed leger enforced by a disparate network of computers.
Advocates of crypto-currency point to a number of benefits over traditional currencies.
The lack of exchange rate can simplify supply chain transactions where they might be multiple currencies. It is secure – it is similar to cash and is not backed by credit – and subject to lower fees and taxes. There is also a suggestion that it can give businesses access to new demographics and markets.
In the last twelve months the total value of issued cryptocurrency has hit over $2 trillion, making it an asset class in its own right and attracting the attention of traditional fund managers as well as Elon Musk who at one point announced that Tesla would accept Bitcoin payments ahead of championing crypto on late night television.
Yet, despite the hype – and we really do need to think of much of the noise hype – it remains of marginal interest to business with Deloitte estimating that around 2,300 businesses accept crypto-currency.
It's volatility makes it problematic, as does the as yet unseen impact of central banks on the virtual currency arena when they eventually enter. We have already seen China roll out an e-Yuan and recently clamp down on the use of crypto. The EU plans a virtual Euro by 2025 and the UK and the US have started their own planning for virtual pounds and dollars.
What's more, in a world where investment and business decisions are increasingly driven by environmental, societal and governance issues, the carbon-intensiveness of mining the currency makes it highly problematic.
However, it is a mistake for businesses to shrug their shoulders and ignore the rise of cryptocurrency entirely until the moment that virtual currencies become mainstream.
Transformative technology for international trade
This is because the blockchain technology which underpins it – described by the Economist as a trust machine - has the ability to simplify and transform how businesses and economies function.
It's ability to keep a shared trusted public ledger of transactions means it is perfectly suited to bringing efficiency and transparency to international finance and trade, transport and logistics, powering the certification, assurance and record-keeping which underpin all of that activity.
If you want to see what this looks like in action then Tradelens, a joint venture between IBM and Maersk which recently enlisted Standard Chartered bank, is a good place to start.
In their sights is the potential to save up to 15% in costs incurred through paper-based trade and manual document handling which still form part of the way container-based transport is managed.
To solve this, they have created Tradelens which allows any participant in the eco-system to check information and shipments and view transactions and manage their supply chain.
For Tees Valley businesses, fortunate to be located in an international trading hub and soon to be boosted by Freeport status, an understanding of the application of blockchain and crytocurrency to future trade will be key to being ready to seize new in global supply chains and the growth that goes with that.
Dr Chi Lau is senior lecturer in Economics at Teesside University Business School with a special interest in the impact of crypto-currency on financial markets, businesses and international trade.
---