Data: The most valuable commodity
By Dr Rajesh Shankar Priya
Senior Lecturer in Business and Management
We may not place much value on the data we share as individuals, but in business, those who harness data and the insights it provides are creating winning market positions.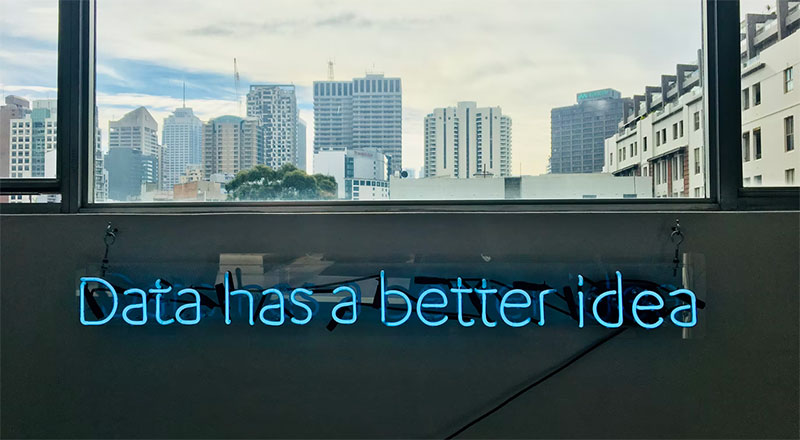 Rhodium is the most expensive metal in earth, but today data is giving a serious run to this and other precious metals like iridium, and gold as a prized and valuable commodities.
Whilst one can argue that most pieces of information – including the Prime Minister's phone number – are freely available in internet and that most of our personal data can be easily compromised online, why should we care about investing in data, and why is data an invaluable commodity for business?
Data as a strategic asset
My management professor in 1994 used to point to a simple growth formula: 'Invest in knowledge, growth will follow'. Some 15 years later, a EU politician in Brussels, told me that 'invest in either knowledge or Infrastructure and growth will follow'.
As a proud German citizen, I can truly reflect on both these growth formulae and its correlation to the success of Germany as a global powerhouse.
However, companies like Amazon and Google add 'Data' as a rhodium pillar for growth. They are keen on anything related to data, investing astronomical sums in gaining knowledge for data management, and capital investment is prioritised on data management across the board.
In 2014, I shared a stage with then Google's India Head, Lalitesh Katragadda to learn about Google's mantra on data management and its advantage over academic research. A candid, yet strong message from Lalith: 'We at Google believe that a day spent with a user is equal to one year of your research on product development'.
Whilst academics like me take pleasure in boosting our citation indexes and publication submissions, companies like Google and Amazon are creating value based on actual data profiling and management.
More than customer insight
Customer profiling through data management has not only added value to businesses by delivering innovative products but has massively facilitated the supply chain management of companies like Amazon in enhancing performance with superlative customer service.
Supply Chain segmentation based on data is evolving identically to customer portfolio management.
Companies usually have a portfolio of customers, distribution channels, products, suppliers, and supply modes. By matching these different portfolios based on optimal time for manufacturing with higher reliability of product availability and excellent customer satisfaction on product quality, cost and delivery, the value potential of any company can be boosted, let alone Amazon.
Whilst rhodium is not the golden tool for success here, data is.
The power of supply chain data
Supply chains are an integral element of any company's growth. Effective supply chain management can reduce costs and maximise profits as companies realise that one third of costs is directly or indirectly connected to supply chain management.
Companies like Amazon have multiple, virtual supply chains running against one physical supply chain. These virtual supply chains are driven by unique value propositions for groups of customers/suppliers/product intersections and are reflected through policies that are administered by automated technology driven algorithms.
The Guardian reported in November 2020 that 'Amazon has become a Pandemic Giant' as I write this article in April 2021, Amazon's Profit has tripled to $8.1bn, up from $2.5bn a year ago.
It is not only the changing behaviour during the pandemic that has led to this jump, but appropriate investment in data and technology has expedited the success.
The pandemic was not in the cards, but I am totally not surprised if Amazon's scaling up strategy was planned to deliver anything, everywhere in all adversity.
Taking data out of its silo
There is no scarcity of data and data analysts but integration of data with technology and business intelligence is the key for success.
Amazon's business intelligence is carefully orchestrated with customer centric business models and supply chain management principles that place customer demand as the first alphabet in this dictionary.
Amazon uses all its power and resource to forecast that unique demand signal from its customer and considers that signal more valuable than rhodium and iridium combined.
All the investment, growth metrics, technology development, business intelligence, digital transformation are around placed around this Boolean demand data of the customer. Whilst the rest of the world is trying to minimise the volatility of demand using data analytics, Amazon is managing the demand with full control on its supply chain, virtual and physical.
Data and technology integration is here to stay, it will make some businesses rich but also make other businesses disappear. From an academic point of view, it will also give a good run to all the business schools around the globe.
A conventional business school curriculum which does not emphasise on data science will be obsolete, as businesses will enhance value based on data, not on human intuition or attitude.
Our marketplace is not confined to a specific geography or language, our products are not made on the principles of mass production but on mass customisation.
Companies like Amazon, Apple, Tesla, or Samsung are not complacent even for a microsecond because customers have more options and loyalty is not a bargaining chip.
Green economies are the next big challenge, with more unknowns than knowns, but companies that have invested in data and technology must only wait for their profits to quadruple.
Dr Rajesh Shankar Priya is a Senior Lecturer at Teesside University's Business School. He has over 20 years of international experience working with large global conglomerates in Technology Management and Business Intelligence. He holds an Engineering Doctorate from the University of Warwick and has studied and worked in more than 10 countries. He speaks fluently in 5 languages and has travelled over 55 countries for work and leisure.
---