Funding boost for green projects
Teesside University and housing provider Thirteen have successfully bid for government funding to deliver projects focusing on the zero-carbon agenda.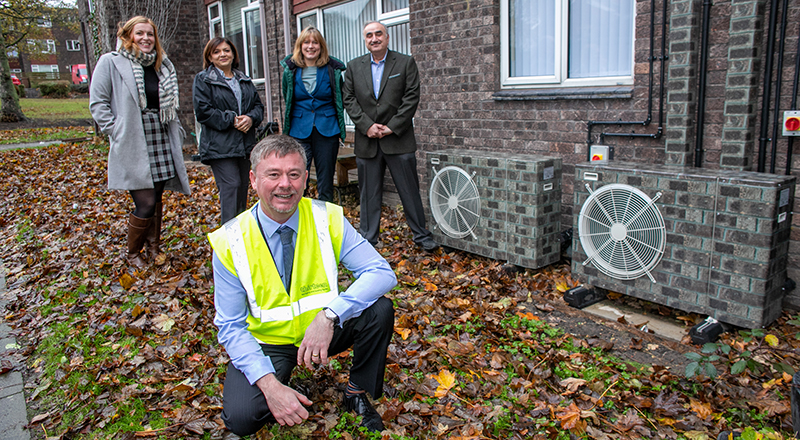 The bid – named Towards a Greener Tees Valley – was made by the partners to bring over £700,000 of funding into the region to help develop green projects, and to better understand some of the challenges that the green agenda poses, especially for social housing. The project is funded by the UK Government through the UK Community Renewal Fund.
The funding will be used for a number of projects, including supporting Thirteen's retrofit project in Hartlepool which is looking at how current homes can become zero-carbon ready.
Additionally, around 600 homes in Middlesbrough will be surveyed to understand what's needed to de-carbonise older homes.
And a project will be run to understand the skills gaps around new green technologies in the Tees Valley, what this means for housing providers and builders, and practical solutions to bridge the gaps.
The projects form part of Teesside University's Socio-Economic Impact Campus (SEIC) initiative, which consolidates work to deliver social mobility and level-up opportunity.
Chris Smith, executive director of business growth at Thirteen, said: "Winning this funding is a great step towards helping us implement a range of environmental projects.
"Thirteen and Teesside University are extremely proud to have been chosen as only one of two projects in the region to receive this funding, and our drive towards zero carbon will be of real benefit to customers and partners in the future.
"By working together, we can combine Thirteen's practical knowledge with the university's research and academic expertise to bring about some real environmental improvements in the area.
"It's not just the changes to the fabric of buildings which are important. Many of the technologies used in homes in future will need people to understand them and change their behaviour.
By working together, we can combine Thirteen's practical knowledge with the university's research and academic expertise to bring about some real environmental improvements in the area.
"So we'll be working closely with customers to monitor the environmental improvement work on their homes, its impact on carbon emissions and on the customers themselves. This will help us ensure our approach is right before agreeing future programmes of work to all of our homes."
Other projects to get the go-ahead as part of the funding include interviews and surveys with residents across the Tees Valley to understand their opinions and experiences of new green technology. A digital representation of a zero-carbon home will also be developed to enable customers to interact with it and understand the impact of the new technologies.
Natasha Vall, Associate Dean for Research and Innovation, School of Social Sciences Humanities and Law, Teesside University said: "The University is delighted to be collaborating with Thirteen on this innovative project that will bring environmental improvements to homes of the future across the Tees Valley.
"We are bringing research expertise from the Centre for Social Innovation and our Net Zero Innovation Centre together to design a digital representation of a carbon-zero home that will place community engagement at the heart of the design process. The project lies at the heart of the University's commitment to supporting a sustainable and equitable green recovery across the Tees Valley."
Thirteen and Teesside University are hoping to involve a range of other organisations in the Community Renewal Funded-projects over the coming year.
Once the projects are completed, which is planned for the summer of 2022, the partners will share their findings and recommendations so organisations throughout the Tees Valley can benefit.
---