Lifelong learning: the benefits of working 'on', not just 'in', your business
By Warren Harrison
Dean, Teesside University International Business School
At Teesside University International Business School one of our key objectives is to produce talented leaders capable of driving innovation to transform organisations and communities.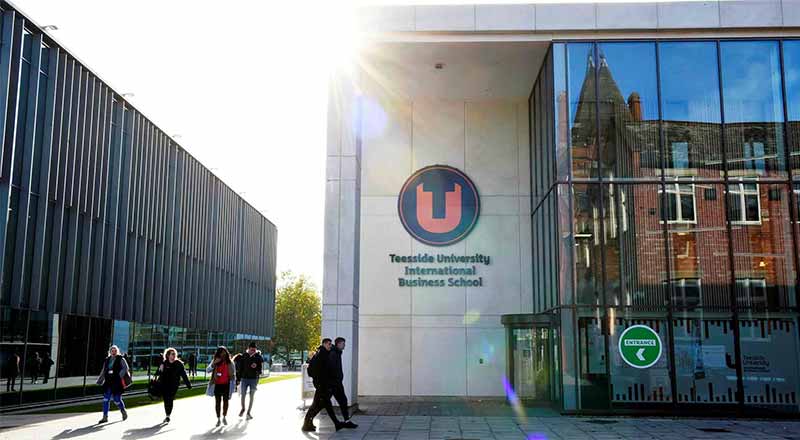 To do that, we are set on becoming a leading provider of a digitally empowered, user-centred and globally connected learning and teaching portfolio, responsive to evolving industry requirements. Having our finger on the pulse also means delivering a dynamic and diversified offer, including executive learning solutions.
We have built an impressive reputation working with leading employers such as Greggs, AV Dawson and PD Ports. In fact, Frans Calje, CEO of PD Ports, chairs the Teesside University International Business School Innovation Group. We also have representation from Goldman Sachs, Hyper Island, Just Williams, Mural and NHSX.
Lifelong learning, and supporting workforce development through CPD, is a big feature of our work with employers. We understand the pressures of the workplace given the pace and increased uncertainty in the world, where we spend all of our time working 'in' the business and not as much as we would like working 'on' the business. If left unchecked, then this turns into a destructive pattern. There are increasingly things to fix that we wish we had at the time, but yet are swept along by present demands.
Time away from the business to think about challenges with others in similar positions is always rewarding. Realising that others have the same challenges, regardless of the sector you are operating in, is always a positive experience and alleviates the 'imposter syndrome'. I have worked with numerous leaders from a variety of organisations at this stage: they are anxious to have staff away from the office, but at the same time feel the pressing need for change. However, once they engage with the learning experience, they begin to take hold of solutions to their challenges through the learning, as well as peer discussions.
More often than not, people are empowered, develop new insights and return to their workplaces equipped to drive change and unlock skills for their own future development, adding value to the business. Such experiences result in the building of culture that starts to value time away for development of new processes and solutions, or simply the development of new skills as vital and to be addressed as part of the normal routine of the organisation.
These concepts may well be familiar to anyone reading this, but any organisation must ask what is not working 'on' the business costing it? It is vital to look beyond the short-term issues of time to consider what can be achieved. Peer learning also unlocks connections to other business and sectors that may be fruitful for an organisation.
So, 'how' do we do this at Teesside University International Business School? Essentially via a combination of off-the-shelf courses, structured CPD programmes and/or tailored training and development solutions. Our CPD provision can be developed and delivered to meet the needs of employers either as accredited or non-accredited chunks of learning through a combination of face-to-face delivery in the Business School, at the premises of an organisation or online (or a blend of delivery models).
Examples include:
Leadership and management: whether you are an experienced manager, a new manager dipping your toe into the management pool for the first time, or taking over a new team, our leadership and management courses give learners the confidence to effectively lead, motivate and inspire their teams. We offer everything from bespoke learning packages to two fully-funded leadership and management programmes for Tees Valley-based businesses.
Degree apprenticeships: our three-degree apprenticeships present a cost-effective approach to workforce development. Employers can benefit from being able to access apprenticeship levy funding and show a commitment to staff investment, attracting and retaining top talent, enhancing and developing their workforce, and opportunity to fill higher-level skill gaps, improving business performance and increasing productivity.
Help to Grow Management Programme: designed to provide the management tools needed to help talented business leaders in the North East and North Yorkshire innovate and grow their business. This 12-week programme is 90% subsidised by the government as part of its Plan for Jobs to help businesses to drive growth and protect jobs, and is aimed at senior leaders of small and medium businesses.
Skills for Growth: this free programme is available to help organisations identify skills gaps and access the employee training needed to grow that business. It is open to applications from SMEs (fewer than 250 employees) in the Tees Valley.
Within these programmes, and also beyond them, individuals and organisations can access our knowledge, expertise and insights in areas including:
Digital Transformation – the 'why', 'what' and 'how' of integrated digital transformation and digital business growth, from implementing new processes, digital strategies and technology to supporting digitalisation within an organisations culture, customer relationships and skills.
Economics – financial economics and asset pricing, quantitative/econometric analysis, energy economics, macroeconomics and policy, and economic evaluation and impact.
Finance and Accounting – financial reporting and taxation, costing and budget reporting, professional ethics, corporate governance and risk management.
HR – providing organisations with advice on aligning their people strategy to organisational business objectives, increasing productivity and the motivation of employees, improving attraction, selection and retention of employees, talent development management and support to create optimum, stimulating working environments for employees and organisations.
Warren Harrison is Dean of Teesside University International Business School
---