Helping to support patients to medicate at home
A new project launched at Teesside University's National Horizons Centre will help to support people with chronic conditions who use self-injectable medications at home.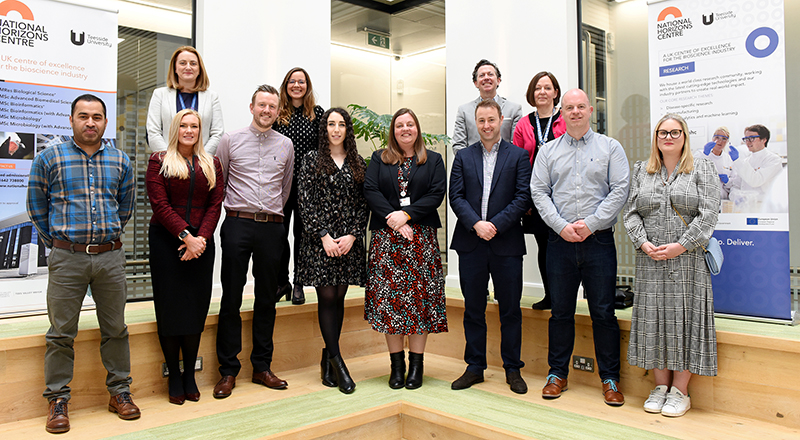 County Durham and Darlington NHS Foundation Trust (CDDFT) in partnership with the National Horizons Centre (NHC), NIHR Newcastle In Vitro Diagnostics Co-operative and HealthBeacon, will help patients with chronic or long-term conditions by enabling them to take more ownership of their treatment.
The project has received a NHSX Digital Health Partnership Award (now part of the NHS Transformation Directorate), which focuses on how digital products and services can support people to remotely monitor their health at home or in the community.
The NHSX Digital Health Partnership Award has been created to help NHS organisations bid for funding to accelerate the adoption of digital health technologies to support patients with long term conditions.
Professor Vikki Rand, Interim Director of the National Horizons Centre, said: "The National Horizons Centre is Teesside University's £22.3m centre of excellence for the biosciences and healthcare sector. With research, partnerships, and training at our core, the NHC brings together industry, academia and world-class facilities to create real-world impact.
"This project is a great example of what the National Horizons Centre does. Working in partnership, our combined aim is to support people in improving their knowledge, skills and confidence in managing their own health, and experience better health outcomes."
Professor Anjan Dhar, Professor of Medicine at Teesside University and Consultant Gastroenterologist at CDDFT, said: "The project will enable patients to stay on track with their treatment by supporting individuals who are taking injectable treatment for chronic conditions across a range of therapeutic areas like Crohn's disease and ulcerative colitis."
As well as helping to increase patient adherence to prescribed medication, the programme will also assist with patient monitoring to ensure that clinicians can access and interact with real time patient data, while also helping to reduce the number of hospital appointments caused by a lack of continuity of treatment. It will also help to focus and re-prioritise appointments for those in greater need.
This project is a great example of what the National Horizons Centre does.
Jim Joyce, CEO, and co-founder of HealthBeacon, said: "It is well documented that approximately one in every two of patients fail to adhere to a specified regimen when long-term medication is prescribed. Medication non-adherence is a serious problem which affects both patients and healthcare systems, resulting in disease, death, and costs.
"HealthBeacon's technology offers a solution to some of these issues through the world's first FDA-cleared Smart Sharps Bin that is clinically proven to materially enhance medication adherence. HealthBeacon's technology and services supports patients and enhances their likelihood of success on important medications."
The programme will initially involve fifty patients to support their medication management at home over twelve months, with scope to extend to other specialties with patients on injectable medications such as immunoglobulins. This will be progressed as part of the long-term sustainability and integration into existing homecare pathways.
Simon Wake, UK Client Solutions Manager added: "Being from the North-East of England and living in County Durham, I am very proud that this is the location for the first HealthBeacon launch site. The partnership offers the unique opportunity to further evaluate the role of remote patient monitoring and empower people to manage their ongoing physical and mental health conditions themselves."
---