Tragedy inspires career switch
A Teesside University graduate who was inspired to switch careers following a family tragedy has officially received her qualifications.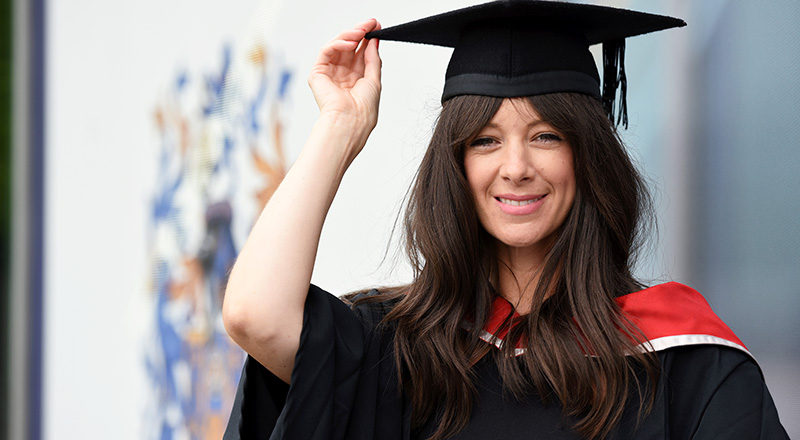 The support that Leanne Nellis and her family received following the tragic death of her new-born daughter Maisie led her to make the decision to retrain as a neonatal nurse.
Following the completion of her studies at Teesside University's School of Health & Life Sciences in 2021, Leanne is now helping the same neonatal team that cared for Maisie at the James Cook University Hospital make a difference to other young babies and their families.
This week, Leanne joined with other members of her cohort to officially receive her degree after their ceremony was postponed from last summer because of the coronavirus pandemic.
Leanne, who was awarded a BSc(Hons) Child Nursing, said: "It's been really lovely to get back onto campus and see everyone again.
"After everything that's happened over the last couple of years, it's great to finally be able to celebrate everything we've achieved."
Leanne gave birth to Maisie one day past her due date in October 2011. Maisie was born with her umbilical cord wrapped around her neck and was taken to the Middlesbrough hospital's neonatal unit where she was looked after for four days.
Determined that Maisie's memory was kept alive, Leanne and her family set up a small charity called Maisie's Hope which, to date, has raised £57,000 for the neonatal unit.
We had to make some sacrifices, but I really enjoyed my training…It was very intense, but I would totally do it all again.
This, in turn, led to Leanne volunteering for the unit before ultimately making the decision to retrain as a neonatal nurse.
Despite having limited healthcare experience and her previous qualification being a marketing degree from Teesside University, Leanne was determined to pursue her ambition.
After enrolling on her course at Teesside University, she was awarded a Tees Valley Community Foundation Scholarship which supported her with £5,000 over the course of her studies.
In October 2021, ten years after she said goodbye to Maisie, Leanne put on her scrubs and joined the unit as a registered neonatal nurse.
"I initially wasn't sure whether going back to university was possible," she said. "We had children and a mortgage.
"However, after the experience with my daughter it was something I knew I really wanted to do.
"We had to make some sacrifices, but I really enjoyed my training.
"There was a great mix of placements which allowed us to get experience of work and learn from people of all different backgrounds.
"It was very intense, but I would totally do it all again."
---