Talented Teesside colleagues celebrate their academic successes
Five Teesside University colleagues from the same department have celebrated academic success at our April and July 2022 graduation ceremonies.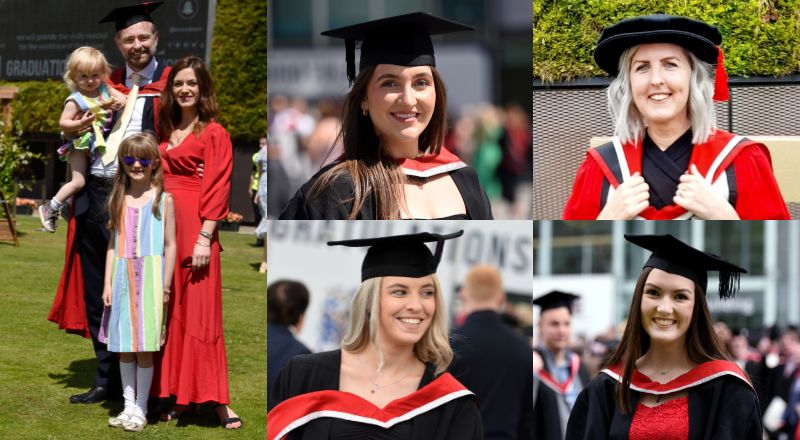 The clever cohort from the Communications and Development (CAD) team joined thousands of fellow graduands, and their familes and friends, to mark the end of their studies.
Narelle Barkes (Communications Coordinator - Social Media), Lauren Heslop and Amy Askham (both Communications Assistants), David Roberts (Communications Officer), and Dr Gemma Sawyer (Student Engagement Coordinator) all graduated with flying colours.
Narelle, Lauren, and Amy each secured roles at the University after completing their studies and they have since gone on to thrive in the University's fast-paced communications team.
Narelle gained a BA (Hons) Marketing, and she now coordinates the Teesside University corporate social media accounts, creating and publishing engaging content across Facebook, Twitter, Instagram, Tik-Tok, and LinkedIn, as well as managing our social media inbox.
BA (Hons) Journalism graduates Lauren and Amy joined the CAD team last summer, and provide invaluable assistance across all areas of the team's work including external, student, and colleague communications.
By contrast, David and Gemma have both worked at Teesside for ten years and they combined their postgraduate studies at Teesside University International Business School with their busy day jobs.
Formerly a journalist, David currently looks after external business engagement communIcations, including press releases and web news stories. David achieved his Master of Business Administration last year through the Senior Leaders Management Degree Apprenticeship route.
Gemma has gone one step further and gained a Doctorate in Business Administration, to go with her earlier MBA and undergraduate degree from Teesside.
Dr Sawyer joined the CAD team from the former Department of Academic Enterprise (DAE) and she now works closely with our academic schools to help them develop effective and engaging student communications.
The skills they have learned have made an immediate impact in our department and across the wider University.
David said: 'Studying for an MBA was an amazing opportunity and I thoroughly enjoyed my time on the course.
'The knowledge and skills the qualification provides have proved invaluable in developing the agility and creativity needed to help our department manage the successful shift to remote working.
'As a degree apprenticeship, what you learn is always closely aligned to the needs of industry. For example, my dissertation focussed on successful leadership within a hybrid working envoronment.
"I would definitely recommend it to anyone wanting to develop and enhance their leadership skills.'
Dr Jo Heaton-Marriott, Director of Communications & Development (CAD), said: 'Congratulations to all of our students who achieved academic success in 2020 and 2021, despite the unprecedented challenges they faced due to the COVID-19 pandemic.
'I am a great believer in ongoing personal development, and I am delighted to see so many of my team taking advantage of the excellent learning opportunities the University provides.
'Those celebrating their achievements at Graduation are great ambassadors for Team Teesside. They thoroughly deserve their academic qualifications and are superb examples of our commitment to always strive for excellence.
'The skills they have learned have made an immediate impact in our department and across the wider University.'
Teesside University recognises that people are its most valuable resource and seeks to provide development opportunities for individuals throughout their careers.
Colleagues can apply to receive financial support to achieve a recognised qualification, and the University's Learning and Development team also offers a range of personal and professional training courses.
---