New partnership to strengthen digital opportunities for local businesses
Teesside University's Industrial Digitalisation Technology Centre (IDTC) has formed a new partnership with a software and consultancy company which will boost digital transformation opportunities for Tees Valley businesses.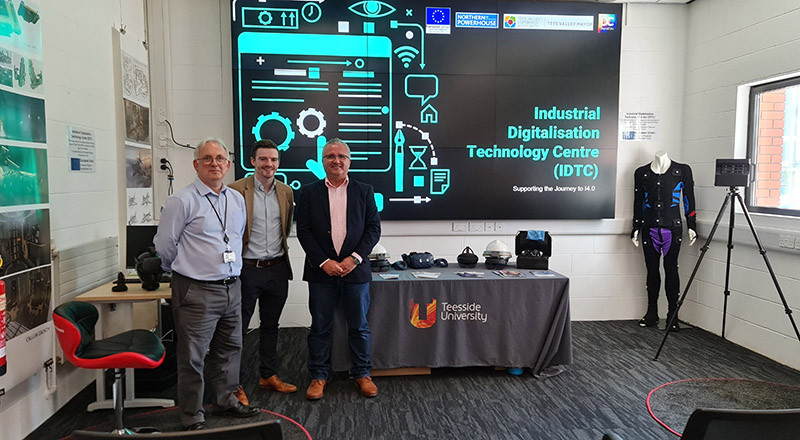 The IDTC helps local businesses to make digital technology work for them by highlighting where SMEs (small and medium-sized enterprises) which have signed up for the funded programme are on their digital journeys and where they want to go.
It develops a bespoke technology roadmap for the businesses it works with and assists SMEs with consultancy and support around innovation projects, as well as helping them to find and implement new, useful digital technologies.
Through its new partnership with North East-based software and consultancy business ZEST I/O, the IDTC is providing new digitalisation opportunities to the businesses it works with to help them succeed.
ZEST I/O offers modular, agile and tailored software for SMEs. Its core solution, ZEST Cloudsuite, incorporates modules such as contacts, sales, purchasing, inventory, manufacturing, accounting, projects, maintenance and more. Customers can pick and choose modules according to their business requirements and utilise add-on modules as they grow.
Zeynel Badak, Founder and Director of ZEST I/O, said: "The benefits and opportunities digital technologies bring to businesses are evident and successful applications are abundant. However, many companies, especially SMEs, are still struggling to realise the potential benefits and opportunities.
Zeynel Badak, Founder and Director of ZEST I/O
"IDTC at Teesside University bridges this gap and supports SMEs to discover and explore a range of digital technologies and opportunities which could help them on their digital journey and benefit their business.
"ZEST I/O are delighted to be working with IDTC and adding value to their digital technology portfolio, stakeholders and wider business community. ZEST Cloudsuite is the ideal software solution for SMEs and our modular approach makes the implementation straightforward with minimal disruption for our customers."
Michael Thompson, Project Manager for the IDTC at Teesside University, added: "The IDTC works to support local businesses take full advantage of the opportunities that digital technology can bring and we feel that ZEST I/O is the perfect partner to help us in this mission.
"We look forward to utilising our combined strengths and working in synergy to deliver real change to the Tees Valley business community."
Find out how the IDTC can support your business by contacting the Centre.
---