New University programme will give insight into public policy
Teesside University has launched a new programme that brings together civic and political leaders to give students an insight into the impact of public policy.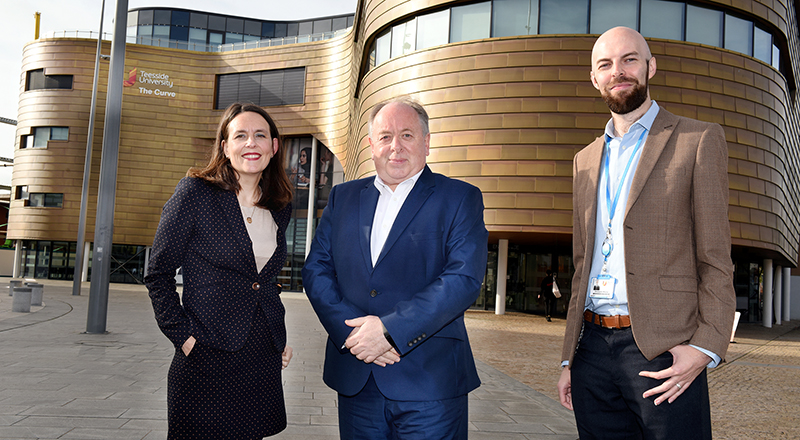 The Public Policy Academy has been borne out of an ongoing working relationship between the University and the UK 2070 Commission: an independent inquiry into urban and regional inequalities in the United Kingdom.
The innovative programme will amplify the voices of students in public policy, engaging them in issues that impact their experiences and lives, and introducing them to a range of career options.
Launched during UK Parliament Week (14 to 20 November), the first event for the Public Policy Academy was an online masterclass featuring the member of parliament for Hartlepool, Jill Mortimer, herself a Teesside University graduate.
Mrs Mortimer gave an overview of her career and her path to becoming an MP as well as discussing some of the key issues that impact her constituents and how she represents them in parliament.
The Public Policy Academy will build upon the expertise within Teesside University and the UK 2070 Commission and leverage their combined networks to offer an innovative programme of events designed to engage students, particularly those studying the humanities and social sciences, with a broad spectrum of public affairs issues.
Future events to be held by the Public Policy Academy will include further masterclasses and guest lectures with key/high profile figures in public policy, opportunities to visit Westminster and the new Darlington Economic Campus, and workshops and projects including mock spending reviews, political monitoring and policy research.
The Commission is delighted to be working with the University on the new Public Policy Academy and I look forward to working closely with the team at Teesside to implement this exciting new programme.
Dionne Lee, Policy and Public Affairs Manager at Teesside University, said: "Teesside University is committed to transforming lives and economies and we firmly believe that engaging people and communities in public policy debate is vitally important to maximising opportunity and potential.
"As an anchor institution we actively engage with key stakeholders, forums and discussion at a regional and national level to help shape the policy landscape,
"Therefore, we are delighted to be able to work with the UK2070 Commission to launch the Public Policy Academy which will play a pivotal role in demonstrating to our students the impact that policy has in all of our lives, as well as introducing them to the plethora of career options available within the public affairs sector."
Michael Henson, Chair of the UK2070 Commission's Teesside Taskforce, added: "As Chair of the UK 2070 Commission's Teesside Taskforce, I have experienced first-hand the passion and potential within the Teesside region.
"It is vital that we connect regions like Teesside more broadly with national politics and public policy.
"The Commission is delighted to be working with the University on the new Public Policy Academy and I look forward to working closely with the team at Teesside to implement this exciting new programme."
---