Former Middlesbrough Football Club player George Friend launches new university Football Academy
A Middlesbrough fan favourite has returned to the town to help launch the new Teesside University Football Academy for talented young scholars.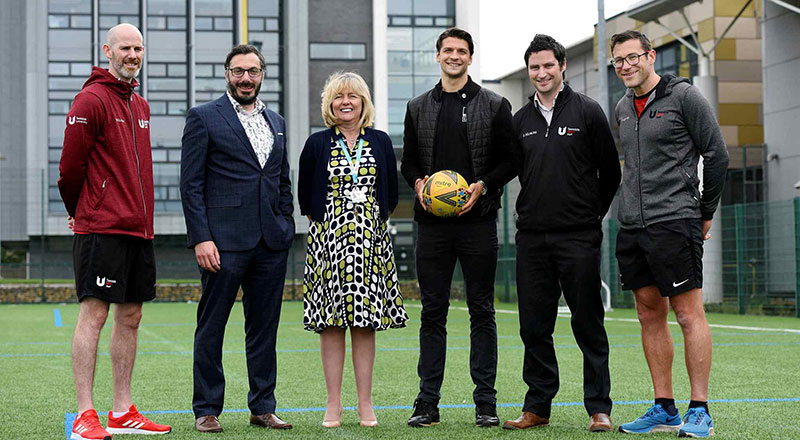 Former Middlesbrough and current Birmingham City defender, George Friend, attended the Football Academy launch event alongside a host of industry professionals at Middlesbrough's Riverside Stadium on Tuesday 22 November.
The elite Football Academy will develop the next generation of men's and women's footballing talent in the region, providing exciting opportunities for progression into semi-professional and professional career pathways.
The programme enables Teesside University students to study in their preferred discipline, inside or outside of sport, while continuing to train and play at a high level in football.
Scholars are provided with a holistic care package that includes 10 hours per week of bespoke football-related activity, including coaching, conditioning, analysis, recovery and medical support.
The student athletes also benefit from the University's strong links with local clubs, including Middlesbrough FC, Middlesbrough Women's FC and Stockton Town. As part of the support package, they also have access to Teesside's state-of-the-art facilities, including a hydrotherapy pool, 4G pitch and biomechanics and physiology labs.
Earlier this year, George also launched the George Friend Scholarship at Teesside University, helping students from all backgrounds to access the performance sport programme and to pursue their passion for football alongside a university education.
As an ambassador for Teesside's new Football Academy, George is looking forward to seeing how the players develop over the years ahead.
He said: "I am extremely proud to support Teesside University's Football Academy. The Academy will offer a fantastic opportunity for talented young athletes to develop their footballing skills while completing their degree.
The North East has a huge amount of talent and it would be fantastic to see a greater pipeline of professional players coming from the Tees Valley as a result of this programme.
"The North East has a huge amount of talent and it would be fantastic to see a greater pipeline of professional players coming from the Tees Valley as a result of this programme. With hard work and dedication, these young athletes could be equipped for promising careers in football – whether that's on the pitch or in the backroom.
"But, ultimately, whether it's in professional football or not, I would love to see graduates finish university with the confidence to take on a significant role in their chosen industry."
The University has a proud history of supporting academic and sporting excellence through scholarships, with BBC Women's Footballer of the Year 2022, Beth Mead, being a previous recipient of the performance scholarship at Teesside.
Professor Mark Simpson, Pro Vice-Chancellor (Learning and Teaching) at Teesside University, said: "George is a fantastic ambassador for our region, and we are thrilled to have his support as we launch this exciting new offer.
"The Teesside University Football Academy is a pivotal new programme for our region. It will provide future generations of talented students with access to exceptional support and facilities to develop their skills and equip them for their future careers. We are very much looking forward to seeing their success."
The new Football Academy is open for applications for the 2023-24 academic year. Applicants should be able to demonstrate a track record of success in football and contribute positively to football at Teesside University through performance. Students can apply to study at Teesside University through UCAS now.
---